Water 'Key' to Better Future in Africa
Water 'Key' to Better Future in Africa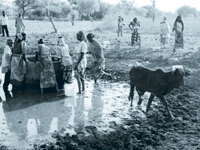 Millions of West Africans don't have access to safe drinking water, which can cause everything from dysentery to permanent parasitic blindness.
Former Los Angeles District Attorney-turned-photographer Gil Garcetti traveled to West Africa, and his photos have been turned into a new book called Water is Key: A Better Future for Africa.
Peter Gleick, the book's editor, is also president and co-founder of the global water research group, Pacific Institute.