For Alaska Biker, Fear Sets In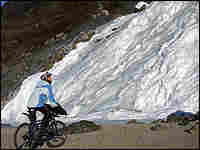 Juneau, Alaska December 6, 2007 — I am now officially, genuinely frightened.
A week of Arctic cold snaps, hurricane-force winds, remote mechanical mishaps, frozen eyelashes and camping in a 30-below-0 wind chill has re-opened my eyes to the learning curve of winter endurance bicycle training. It is a steep one.
I set out early in the week for my first winter camping experience. I packed up my bicycle, left my house in the pitch darkness of 5 p.m., and pedaled 30 miles north to an area that is best described as "Alaska remote." I hadn't seen a car go by in more than an hour when I felt the awful bouncing of a rear flat tire.
It wasn't the most ideal situation to conduct my first-ever tire change on my Surly Pugsley. In temperatures near 20 degrees, I worked by the meager light of my headlamp to remove the rear wheel. The job required loosening the rear disc brake, which took me 20 minutes to figure out. By the time I wrestled the tire off my fingers were half frozen.
The tube had a tear near the valve that I could not patch, so I inserted my spare and began the long, tedious task of pumping a 4"-wide tire with a tiny hand pump. After another 15 minutes, I heard a gut-wrenching hiss of air streaming out of the valve. "No! No! No!" I screamed as all of my hard work vanished into the cold night. I tore off the tire again and found a similar rip near the tube's valve. Another unfixable flat in my spare. I was completely stranded.
I put my bike back together and took deep breaths to stave off panic about the 10 to 15-mile walk back to the outskirts of civilization. Just then, a lone car passed me. A woman asked me if I needed help. I asked her if she had a cell phone. "There's no reception out here," she said. "But I live in a cabin a half mile down the road. You can come use my phone. I'll make you some tea."
"By the way," she said as she drove away, "my name is Rebecca."
As I waited for my rescue ride, Rebecca and I chatted over delicious hot Chai and laughed through the movie Hairspray. It was a wonderful example of Alaskan hospitality, a common camaraderie among those of us living on the outskirts of civilization. I may have been stranded in a frozen corner of nowhere, but I made a new friend.
Because that camping experience failed, I decided it would be best to start slower. Geoff and I agreed to camp out in the back yard one night after work. A deep cold snap had moved into the area, bringing 50-70 mph winds and temperatures near 0. Earlier that day, I hiked to an elevation 2,500 feet higher, where 100 mph winds tore streams of snow off the mountains. The windchill was so severe that I could not take my mittens off for more than a few seconds before my fingers flash-froze into stiff, useless stumps. The raging winter landscape was breathtaking and humbling. That night, even within sight of my warm house, I was frightened about crawling into a sleeping bag and attempting to survive.
But this is a learning curve I must summit, because the Iditarod Invitational race requires unshakable strength and confidence. So I nestled into my winter sleeping bag for the first time. I was surprised how warm it was inside, even as 50 mph winds pushed bone-chilling blasts of air through the tiniest openings in my bivy sack. I slept on and off for six hours, often waking to the loud banging of debris being tossed or shattered by the wind. At one point, I awoke a particularly strong gust literally pushing me sideways across the frozen grass — like a helpless burrito. I was frightened, but I felt stronger.
With any luck, this will be another week of hard lessons, and I am excited for the continuing adventure.
Related NPR Stories
Web Resources