After Decades of Neglect, LAX Gets a Facelift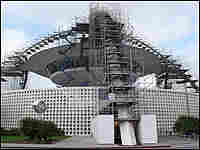 After Decades of Neglect, LAX Gets a Facelift
LAX on the Big Screen
The Los Angeles International Airport has been featured in many films, among them:
The Graduate (1967)
Jerry Maguire (1996)
Fight Club (1999)
Almost Famous (2000)
Mulholland Drive (2001)
Not Another Teen Movie (2001)
Catch Me If You Can (2002)
Kill Bill II (2003)
Catwoman (2004)
Snakes on a Plane (2006)
'Weekend Edition' in L.A.
Many travelers to Los Angeles find the city's international airport in need of an extreme makeover.
A British news agency recently named Los Angeles International Airport, LAX, one of the world's 10 worst airports, placing it between Rangoon and Baghdad. Most of the terminals haven't had major updating in 25 years — until now.
Over the next decade, LAX will spend $4 billion to $6 billion to widen the runways, add new eco-friendly terminals and gates, and new parking structures and people movers. Construction crews are already sprucing up the customs area at the international terminal. When they finish next year, there will be new lights and new baggage carousels.
Destination: Uninspired
About 61 million passengers come through LAX every year, and many visitors have their own suggestions for improvements. At the terminal gates, there's a small news stand and a couple of fast food restaurants, but not much to do. Musician Tony Parker was so bored waiting for his flight, he says, that he pulled out his guitar to sing. He says he wonders why a town that's so tied to Hollywood has an airport so lacking in pizazz.
"Maybe there could be a show business motif, like a big mural of Marilyn Monroe or James Dean," he suggests. "This is Hollywood, after all!"
Some travelers say they'd love to see frills like chair massages, a movie theater, a video arcade, music-listening stations — something besides the uninviting, stark, concrete walls.
Aging Infrastructure
Jim Ritchie, deputy executive director of long-range planning at the airport, agrees that LAX is not a first-class airport.
"Go to Seoul, Korea, Beijing, anywhere in Japan, Singapore, Europe, throughout the United States, you will find — and I regret to report this — that we are behind everybody else," Ritchie says.
Ritchie says the airport's outmoded design and aging infrastructure have led to greater problems. The terminals are so cramped with baggage-screening devices that passengers sometimes have to line up outside along the curb. Much of the plumbing and ventilation has seen better days. And Ritchie says LAX isn't ready to fully accommodate the new giant Airbus 380, which is too big for the runways and gates. LAX has also experienced more than its share of dangerous runway mishaps.
"We have, unfortunately, over the years, been ranked one, two or three in runway incursions, where airplanes have a near-miss on the ground," Ritchie says.
A Crumbling Landmark
LAX's neglect has even affected its landmark building, Encounters, a restaurant that looks like a space station from a kitchy 1960s science-fiction movie. Earlier this year, a 1,000-pound piece of stucco fell from one of the restaurant's corroded arches.
Today, scaffolding covers the building as workers retrofit and replace the steel skeleton. The restaurant was closed for months, but Encounters is back in business now, offering a killer view of the entire airport.
Encounters manager Kenneth Merritt says travelers can again enjoy the iconic restaurant's interior, designed by Disney imageneers.
"It's sort of a Jetsons-like '60s style, with the psychedelic lava lamps," Merritt says.