Mick Jones Finds Self, Not in Supermarket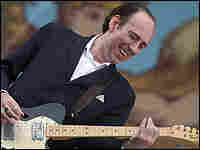 Legendary Clash guitarist Mick Jones is back, with Tony James of Generation X, in a new band called Carbon/Silicon.
Jones and James talk about the congestion tax, 2000 Flushes and the unrelenting life of a rock 'n' roll star. Along the way, they find time to squeeze in one of their songs.