Medvedev Says Putin Should Be His Prime Minister
Medvedev Says Putin Should Be His Prime Minister
Yuri Kadobnov/AFP/Getty Images
The man anointed by Russian President Vladimir Putin to be his successor said Tuesday that if elected, he will appoint Putin to be his prime minister. That would give Putin a way to hold on to power after he leaves the presidency next year, but some analysts say it's unclear if that is Putin's plan.
Putin ended years of speculation on Monday when he endorsed Dmitry Medvedev, a loyal top Cabinet official, as his favored candidate for the presidency. On Tuesday, Medvedev appeared on television sounding severe, much like Putin himself, and said he would appoint Putin prime minister after he steps down as president.
"Vladimir Putin's policies saved Russia from civil war and made the country respected in the world," Medvedev said. "To stay on Putin's course, it's not enough to elect a new president who shares his ideology. It's no less important to keep Putin in a top executive post in government."
Putin has yet to say whether he would accept the offer. But last October, he said he would consider becoming prime minister if his United Russia Party were to win a majority in the elections that took place a week ago. The party won by a landslide in voting that independent observers said was rigged.
Putin had said United Russia's victory would give him the "moral right" to continue influencing Russian politics.
"Victory comes not to the strong, but to those who speak the truth," Putin said. A United Russia victory, he went on, would signify the public trusts him.
Putin's sky-high popularity and tight grip on power means his endorsement of Medvedev virtually ensures he will win the election next March.
Analyst Olga Kryshtanovskaya says Medvedev has a reputation as a weak, dependent figure. She predicts that means Putin, who is barred from running for a third consecutive term, will try to hold on to power by controlling Medvedev.
"There may be a period of uncertainty, but Medvedev won't have time to consolidate power," Kryshtanovskaya said. "He'll soon step down, there will be early elections, and Putin will be able to return as president for another two terms."
Others are less certain. The prime minister currently plays a humble role fully subservient to the president. Yuri Korgunyuk of the Indem political research group says it's far too early to say what Putin will do.
"However loyal Medvedev may be now, once president, everything would change because he'd have a tremendous amount of power in his hands," Korgunyuk said. "If Putin becomes prime minister, there will be two centers of power and probably a serious battle for control."
The president can fire the prime minister, and Korgunyuk says Medvedev, as president, would win any conflict with a far weaker Prime Minister Putin. One way around that would be to boost the prime minister's power by changing the constitution, something the United Russia Party's majority would enable the government to do.
Whatever Putin's plans, analysts agree that by linking himself even more firmly to the wildly popular Putin, Medvedev will increase his own popularity, even as Putin keeps his future options open.
Dmitry Medvedev Brings Strong Loyalty to Putin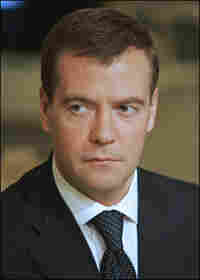 Vladimir Rodionov/AFP/Getty Images
Russia's Vladimir Putin has endorsed one of his most trusted aides, Dmitry Medvedev, to succeed him as president.
But it's noteworthy that Putin did not choose one of his own former colleagues from the Russian intelligence agencies.
Putin's endorsement means that Medvedev appears almost certain to win the presidency in the election set for March 2.
The 42-year-old bureaucrat and businessman has been favored over much older rivals. They include a former KGB general, Sergei Ivanov, and Prime Minister Viktor Zubkov, a former investigator of financial crimes.
Medvedev was 25 and fresh out of law school when he first went to work with Putin in the St. Petersburg city administration. During the 1990s, he also held advisory positions in St. Petersburg-based companies, including a pulp mill and a paper company.
When Putin was appointed Russia's prime minister in 1999, he took Medvedev with him to Moscow to serve as a top election campaign official. After Putin won the presidency in the 2000 elections, he appointed Medvedev chairman of Gazprom, Russia's huge natural-gas company, where he served two terms.
Medvedev became Putin's chief of staff in 2003 and was named first deputy prime minister in 2005.
Political observers in Russia see Medvedev as presenting a friendlier public face than many of the former security officers in top Kremlin positions. Since Putin has been his mentor and boss throughout his career, Medvedev is regarded as potentially more susceptible to Putin's control than either Ivanov or Zubkov.
Medvedev is also seen as a loyalist who is likely to pursue his boss' policies — and may only be warming the president's chair until a constitutional change allows Putin to run for another term.