Dmitry Medvedev Brings Strong Loyalty to Putin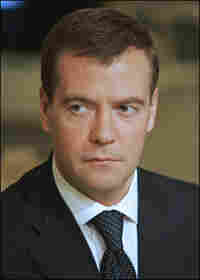 Vladimir Rodionov/AFP/Getty Images
Russia's Vladimir Putin has endorsed one of his most trusted aides, Dmitry Medvedev, to succeed him as president.
But it's noteworthy that Putin did not choose one of his own former colleagues from the Russian intelligence agencies.
Putin's endorsement means that Medvedev appears almost certain to win the presidency in the election set for March 2.
The 42-year-old bureaucrat and businessman has been favored over much older rivals. They include a former KGB general, Sergei Ivanov, and Prime Minister Viktor Zubkov, a former investigator of financial crimes.
Medvedev was 25 and fresh out of law school when he first went to work with Putin in the St. Petersburg city administration. During the 1990s, he also held advisory positions in St. Petersburg-based companies, including a pulp mill and a paper company.
When Putin was appointed Russia's prime minister in 1999, he took Medvedev with him to Moscow to serve as a top election campaign official. After Putin won the presidency in the 2000 elections, he appointed Medvedev chairman of Gazprom, Russia's huge natural-gas company, where he served two terms.
Medvedev became Putin's chief of staff in 2003 and was named first deputy prime minister in 2005.
Political observers in Russia see Medvedev as presenting a friendlier public face than many of the former security officers in top Kremlin positions. Since Putin has been his mentor and boss throughout his career, Medvedev is regarded as potentially more susceptible to Putin's control than either Ivanov or Zubkov.
Medvedev is also seen as a loyalist who is likely to pursue his boss' policies — and may only be warming the president's chair until a constitutional change allows Putin to run for another term.