Death Toll Climbs in Algerian Bombings
Car bombs exploded minutes apart Tuesday in central Algiers, heavily damaging a United Nations building and ripping the facade off the wing of a government office. Dozens were killed, including some U.N. employees, and the death toll is still climbing.
William MacLean, a Reuters correspondent in Algeria, talks with Robert Siegel.
Twin Bombings Kill 22 in Algerian Capital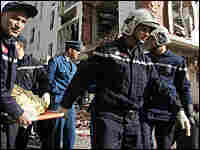 Fayez Nureldine/AFP/Getty
Algerian officials said at least 22 people were killed and 177 were injured Tuesday when a pair of car bombs exploded in Algiers, damaging the U.N. offices and ripping the facade off a government building.
The bombs exploded within minutes of each other around 9:30 a.m. One targeted United Nations offices, according to the head of the U.N. refugee agency in Geneva. The other bomb struck Algeria's Constitutional Council, said Interior Minister Noureddine Yazid Zerhouni.
Although the official death toll was fewer than two dozen, hospital and rescue officials said the number killed could be as high as 45. One doctor put the toll at 60.
The number of U.N. employees who were killed is not yet known.
In New York, U.N. spokeswoman Maria Okabe said preliminary information is that four U.N. employees are among the dead. However, Ron Redmond, chief spokesman for the U.N. High Commissioner for Refugees in Geneva, said two UNHCR staff members — both drivers from Algeria — were killed and more than a dozen workers were injured, one seriously. He said all missing employees have been accounted for.
The explosion blew the front off the U.N. refugee agency building. It apparently caused more damage to the main U.N. building housing the U.N. Development Program and other agencies diagonally across the street.
Algiers Network 3 said the two bombs went off about 10 minutes apart. Some victims of one attack were on a school bus, the official news agency APS said.
U.N., U.S. Condemn Bombings
UNHCR Chief Antonio Guterres said he has "no doubt that the U.N. was targeted," according to Redmond. He added that "it is a very small street that just separates a U.N. compound, and it happened right there."
U.N. Secretary-General Ban Ki-moon strongly condemned the bombings.
"This is just unacceptable," said a somber Ban, who was at a U.N. climate conference in Bali, Indonesia. "I would like to condemn it in the strongest terms. It cannot be justified in any circumstances."
The Bush administration also denounced the bombings.
"We condemn this attack on the United Nations office by these enemies of humanity who attack the innocent. The United States stands with the people of Algeria, as well as the United Nations as they deal with this senseless violence," National Security Council spokesman Gordon Johndroe said.
Suspicions Focus on Al-Qaida
Although there were no immediate claims of responsibility, suspicions quickly focused on the North African wing of al-Qaida. In 2003, the group claimed responsibility for attacking the U.N. headquarters in Baghdad a year earlier.
The date – the 11th – could point to an Islamic terror link. Al-Qaida in Islamic North Africa claimed responsibility for attacks on April 11 that hit the prime minister's office and a police station, killing 33 people.
Algeria has been battling Islamic insurgents since the early 1990s, when the army canceled the second round of the country's first-ever multiparty elections, stepping in to prevent likely victory by an Islamic fundamentalist party.
Islamist armed groups then turned to force to overthrow the government; up to 200,000 people were killed in the ensuing violence.
Terrorists Linked to Other Bombings
The last year has seen a series of bombings against state targets, many of them suicide attacks.
Recent bombings have been claimed by al-Qaida in Islamic North Africa. That was the name adopted in January after the remnants of the insurgency, the Salafist Group for Call and Combat, or GSPC, formally linked with al-Qaida.
Once focused on toppling the Algerian government, the group has now turned its sights on international holy war and the fight against Western interests. French counterterrorism officials say it is drawing members from across North Africa.
A Sept. 6 attack during President Abdelaziz Bouteflika's visit to the eastern city of Batna killed 22 people, and a suicide bombing two days later on a coast guard barracks in the town of Dellys left at least 28 dead.
From NPR reports and The Associated Press