Of Politicians. And Bats.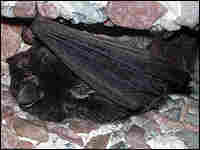 Biologist Hill Henry spots a wildlife drama outside his window.
A tell-tale spot on one ear tells Hill Henry what kind of bat this is.
Hill Henry says not to worry about this critter.
Today on the Bryant Park blog, we take a look at an attempt to define presidential candidates' personality types. A new website called the PersonalityZone works off of observations of the pols in action. See who's an "Artisan" and who's a "Guardian" — supposedly, anyway.
And a friendly scientist from Tennessee checks in with an identification of NPR's pet bat. The little critter has curled itself into a crevice in a building, right in our nation's capital. Hill Henry runs its profile.