Congress Looks to Require Electronic Prescriptions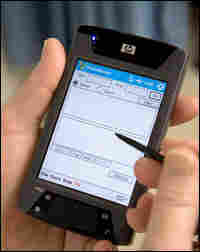 In ancient Babylon, healers wrote some of the earliest known prescriptions for medicines by carving instructions into clay tablets. Two and a half millennia later, doctors have given up the stylus, but the vast majority still use pen and paper. Now Congress wants to change all that — to require doctors who treat Medicare patients to file prescriptions electronically. But not all doctors totally trust the technology just yet.
Dr. Andrew Warner is one who does. He says he's way better at practicing medicine than handwriting.
"When I was in fourth grade, I got my first B in penmanship. My mother, who believed in honesty, actually called the school to see if that was a legitimate grade," he says. "My penmanship's god-awful."
So when the Lahey Clinic in Massachusetts, where Warner heads the gastroenterology department, moved from handwritten prescriptions to electronic prescribing a few years ago, it was a big relief. Now, he says, pharmacists don't have to wonder whether he's written a four or an eight.
"The pharmacist gets exactly what we want them to get," he says. "The number of callbacks we've gotten from pharmacists has gone from multifold down to zero."
And because the prescription goes directly from the doctor to the pharmacy, e-prescribing, as it's called, saves a step for patients — the prescription is ready and waiting when they arrive at the pharmacy counter.
But Warner says the real value of e-prescribing is its ability to reduce medication errors and save money. He prescribes straight from his hand-held computer — he taps on the screen and a prescription pad pops up.
"It has a list of all the drugs your patient's on," he says. "So you know everything they're taking. And if there's a particular medication you want to give your patient, you go ahead and just tap on it. If there's an interaction between that drug and some drug that patient's already on, a big red box will appear and say 'safety alert,' and tell you what that is."
If there's no safety alert, the drug appears, along with possible alternatives, "and these are color coded. If these are green or black, it means the patient will have a low co-payment; if they're red or blue, it means they'll have a high co-payment."
While e-prescribing is growing rapidly, it still represents only a tiny fraction of prescriptions written each year. About 2 percent of the 1.5 billion that were eligible for electronic routing this year were actually filed that way, according to SureScripts, which runs the industry network that allows doctors and pharmacies to exchange electronic prescribing information.
So now Congress wants to give e-prescribing a bit of a kick start.
"We have the technology. We have the interoperability. We know how to make this happen. But not enough people are embracing this rapidly enough," said Sen. John Kerry (D-MA) at a Capitol Hill news conference last week. Kerry, along with several other Democrats and Republicans, is sponsoring a bill that would initially give doctors a bonus in their Medicare payments if they start e-prescribing. If they don't adopt the technology by the year 2011, however, they would have their payments reduced.
But now is not the time for any type of mandate on doctors for new technology, says the American Medical Association.
"We worry that there's such frustration out there right now with Medicare payments, that adding a mandate would be something that would cause some physicians to just throw in the towel," says Dr. Joseph Heyman, the AMA's chairman-elect.
Heyman himself — an obstetrician/gynecologist in solo practice — uses both an electronic medical record and an e-prescribing program — and he doesn't plan to ever go back to paper. But he also says the technology is not as simple as advocates suggest. For example, in his system, "you have to leave one program to go to the other, and you're entering data in a duplicate fashion. So that when I write a prescription for a patient on my e-prescribing program, I also have to write the prescription in my electronic medical record, so it's twice as much work."
Heyman says he's recently found a way to synchronize his electronic medical record and e-prescribing programs, but there have been more than a few glitches along the way.
"We've been working on it for weeks," he says. "So you can imagine in a busy practice, a solo practitioner or a small group practice, the frustration level could get pretty high."
And doctors are already frustrated with Medicare — unless Congress acts in the next two weeks, they're facing a 10 percent pay cut starting Jan. 1. But it's possible the same bill that will prevent that cut will also implement the e-prescribing mandate.