The Best Albums of the Year, from KUT
With South by Southwest, Austin City Limits, several great festivals and lots of shows to go to on any given night, people here in Austin take their music seriously. So seriously, in fact, that KUT devotes an entire department to nothing but music journalism. This, however, is not journalism. I should point out that it wasn't easy — especially when trying so hard to be honest about something so subjective. When the dust settled, however, I was pleasantly surprised to consider just how much great music from these parts deservedly landed right up there with artists of national and international renown.
The Best Albums of the Year, from KUT
Radiohead
Song: "Nude"
from In Rainbows
Put aside the boldness of Radiohead's pay-what-you-want marketing strategy. Ignore, if you can, the fact that for once, a big-league band (perhaps the most gifted on the planet at the moment) attempted to meet the new culture of downloaded music on its own terms. Just listen to the music. In this follow-up to the mopey Hail to the Thief, Thom Yorke and company craft a collection of gently unnerving and delicate anthems generating continual tension and release, mirroring the mood of the decade. On one hand, this is pretty straightforward stuff that the band has been playing live for some time -- no song stands alone as a potential radio hit. But In Rainbows is an album to be listened to as an album: a lush, layered tapestry of sound, and a life-affirming treatise that can still leave you slack-jawed after repeated spins. What's that worth? Listen to "Nude."
Wilco
Song: Impossible Germany
from
by
Some longtime fans complain that Wilco has devolved into 21st-century soft rock. Admittedly, Sky Blue Sky isn't groundbreaking. And yet in its own way, it's an instant classic: easily Wilco's most coherent musical expression in ages. More than a decade after Jeff Tweedy's departure from Uncle Tupelo, the middle-aged leader of Wilco has no need to reinforce his place as "artist." On Sky Blue Sky, the emphasis is on solid songcraft without pretense, and the result is one of 2007's most sure-footed, satisfying and melodically sound albums. Tweedy even allows guitarist Nels Cline to steal the show occasionally, as he does on the lovely "Impossible Germany," the most affecting track of the lot. Listen to "Impossible Germany."
"Our Life Is Not a Movie or Maybe"
Okkervil River
Song: "Our Life Is Not a Movie or Maybe"
from The Stage Names
Okkervil River leader Will Sheff chafes at the "lit-rock" label, but there's really no way of getting around it: Part of what makes Okkervil River so satisfying is that it's one of the smartest (and most self-effacing) bands in indie-rock today. Traditionalists may fault Sheff's emotional, sometimes howling vocals, but his character studies are so incisive and chockablock with wordplay that everyday observations are elevated to the extraordinary and cinematic. The Stage Names, the latest and most upbeat of Okkervil River's four full-length albums, won critical raves, and rightfully so. Listen to "Our Life is Not a Movie or Maybe."
Amy Winehouse
Song: "Me and Mr. Jones"
from Back to Black
Is Amy Winehouse for real, or just a great pretender to the tradition of R&B divas? Better question: Who cares? Back to Black -- released in 2006 in the U.K., but this year in the U.S. -- was one of the year's most entertaining albums, melding funk, soul, pop and a little bit of jazz. The juxtaposition of sultry melodies, Winehouse's purring vocals and her blunt lyrics made for an intoxicating mix -- irresistible to hipsters and soccer moms alike. Winehouse may never match or top Back to Black, but this is no mere novelty. This is the evolution of British soul as Dusty Springfield might have imagined it: unshakably cool, yet visceral and ferocious. Listen to "Me and Mr Jones."
Li'l Cap'n Travis
Song: "Fangs in My Mouth"
from Twilight on Sometimes Island
L'il Cap'n Travis suffers from a name that's too cute -- critics often lump the band in with the smart-alecky likes of Camper Van Beethoven. True, L'il Cap'n Travis is clever, but its music owes much more to a Cal-Tex tradition that lost its way in the mid-'70s: Think Gram Parsons and the Flying Burrito Brothers. Yet Twilight on Sometimes Island, the band's fourth and best album, transcends easy comparisons. Using steel guitars and vintage synthesizers, the Austin quintet glides from twang to torch song, weaving a near-perfect desert-island disc: romantic, atmospheric and occasionally mesmerizing. Listen to "Fangs in My Mouth."
Bill Callahan
Song: Diamond Dancer
from Woke on a Whaleheart
There's something inherently organic and wholesome about Bill Callahan's music. Maybe it's his vocals -- full and round, unstrained and innocent -- or his conspicuously unselfconscious, rhythmic lyrics. Whatever: Woke on a Whaleheart is a bit like a soundtrack to a pleasant dream: at once challenging and effortlessly engaging. For years, Callahan has been the enigmatic figure at the center of a dark, folk-driven musical project called Smog. Coming out from under his own name for the first time appears to have elevated Callahan's spirits along with the appeal of his songwriting -- the sparse "Diamond Dancer" is but one of many sparkling examples. Listen to "Diamond Dancer."
The Small Stars
Song: "Love Is Grand"
from Tijuana Dreams
Led by two-thirds of Fastball (remember the smash single "The Way" from 1998?), the nattily attired members of The Small Stars hyped their self-released sophomore album as a mashup of glam rock, lounge music and red-light cabaret. Well, mission accomplished -- and, believe it or not, that's a good thing. Tijuana Dreams is both unique and 100 percent fun from the first spin. Though their stage show may owe a lot to The Tubes, The Small Stars' members pilfer primarily from old Paul McCartney, Joe Ely and Big Star records to charming effect. Packed with top-down summer songs like "Love Is Grand," Tijuana Dreams was difficult to eject from the car stereo for much of 2007. Listen to "Love Is Grand."
"Back Seat Silver Jet Sighter"
Future Clouds & Radar
Song: "Back Seat Silver Jet Sighter"
from Future Clouds & Radar
Except, perhaps, for classic rock reissues, the double-album is dead. Happily, someone forgot to tell Robert Harrison. The one-time leader of the garage-rock band Cotton Mather was laid low for two years by a spinal injury, but cheered on to recovery by the gift of a ukulele from his daughter. When Harrison and his uke finally emerged from sick bay, he had enough material for Future Clouds and Radar -- the title of both his new band and an ambitious pop-music document that runs in excess of 90 minutes. Though there's no real theme here, there's not much idle filler, either. Future Clouds and Radar's debut is rife with Beatles-esque string and horn arrangements, built around hook-infested ear candy like "Drugstore Bust." It's a beautiful power pop mess; a roll-your-own White Album. Audacious? Sure. But undeniably impressive. Listen to "Back Seat Silver Jet Sighter."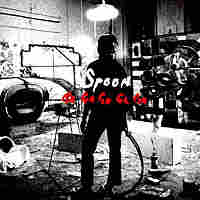 "You Got Yr. Cherry Bomb"
Spoon
Song: "You Got Yr. Cherry Bomb"
from Ga Ga Ga Ga Ga
Britt Daniel's clever-but-derivative songwriting earned his band Spoon a major-label deal in the mid-'90s, followed by a rapid demotion to the bargain bins. These days, Spoon has a new label and lots of experience, and Daniel's songs have become shrewd, taut and utterly original. On Ga Ga Ga Ga Ga, Spoon fuses the fresh with the familiar. "The Underdog" and "You Got Yr. Cherry Bomb" are punctuated with handclaps, mariachi horns and sing-along choruses, yet Spoon maintains a quirky aloofness that has become a signature. There's no confessional here, nothing autobiographical or lyrically illuminating. But when it comes to modern rock 'n' roll, Spoon's crisp yet atmospheric 2007 album represents nothing less than the state of the art. All hail. Listen to "You Got Yr. Cherry Bomb."
"Pagan Angel and a Borrowed Car"
Iron & Wine
Song: "Pagan Angel and a Borrowed Car"
from The Shepherd's Dog
Sam Beam thought he'd be a filmmaker someday. But since 2002, he's been significantly more successful with his career as a neo-folk musician, playing solo and with an assortment of supporting players under the moniker Iron and Wine. Beam's quiet early work has an endearingly rough appeal that recalls Nick Drake. On 2007's The Shepherd's Dog, though, Beam adds contemporary rhythms and sophisticated arrangements, lending his music more mainstream appeal. Songs like "Boy with a Coin" and "Pagan Angel and a Borrowed Car" are polished but porous, radiant but dark. Seldom have the contradictions of the Southern experience been so sublimely and sensitively captured. Listen to "Pagan Angel and a Borrowed Car."
Honorable Mentions
Omar Kent Dykes and Jimmie Vaughn, On the Jimmy Reed Highway
Ryan Adams, Easy Tiger
Steve Earle, Washington Square Serenade
Arcade Fire, Neon Bible
The Gourds, Noble Creatures
Various Artists, Stax 50th Anniversary Celebration
The Derailers, Under the Influence of Buck
David Brown is executive producer of the cultural journalism project "Texas Music Matters" and host of "Austin Music Unlimited" on Austin's KUT 90.5.