Mitchell: Many to Blame for Baseball's 'Steroids Era'
Mitchell: Many to Blame for Baseball's 'Steroids Era'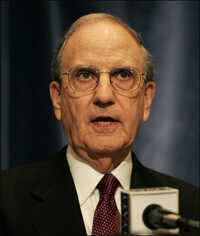 Stan Honda/AFP/Getty Images
Former Senate Majority Leader George Mitchell released his long-awaited report on steroid use in Major League Baseball on Thursday, blaming the "steroids era" on "everyone involved in baseball over the past two decades: commissioners, club officials, the players' association and players."
"Of course, the players who used, obviously, bear responsibility for their actions. But they did not act in a vacuum," Mitchell told Robert Siegel in an interview.
You actually credit the players union position as having some truth that baseball owners, I believe you said, feared the economic consequences of a tough policy on doping. Is that correct?
No, that's not exactly the way I stated it. That's not correct. The way it occurred and the way I stated it is that the owners made proposals to deal with the problem through drug testing. The players association did not agree. The owners did not press hard on the issue because they had other economic concerns. The economic concerns were not related to the implications of dealing with drug testing.
But when your report relates, for example, Roger Clemens being acquired from Toronto by the New York Yankees, and the assistant weight-training coach who says now that he had been supplying steroids to Clemens coming with him to New York, is it fair to assume that up and down the chain people in management understood that's what Clemens' problem was, that that's what his relationship with this man was?
No, I don't believe that's a fair conclusion. I don't know who knew when. It's possible that no one did, because these events did not occur in public. In fact, if you read the report, all of those events occurred in private, in the privacy of a hotel room or a private apartment. So the extent to which others knew is something of which I don't have knowledge, and I don't think can fully be inferred from the report.
On the other hand, in the cases regarding Eric Gagne, the relief pitcher, and Paul Lo Duca, the catcher, your report includes notes of remarks made by baseball executives, which indicate that people were familiar as they thought about trading for or trading these players, they were familiar with stories of their using steroids. True?
That is true. I said in the first paragraph of my report that club officials routinely discussed the issue of steroid use in evaluating players. That's documented in the report. It was and has been recently widespread in baseball. And so, it suggests that there was in fact a knowledge of what was occurring.
You suggested Major League Baseball take a very forward-looking approach to this problem. Why? Why shouldn't it clean house? Why shouldn't it go back to what happened in all those years when it didn't have an adequate policy for dealing with steroid abuse?
Well, first, of course, most of the events described in my report are old, from two to nine years old. At the time they occurred, there was not a penalty for a first violation of the program. Under the law, you have to apply the penalty provisions in effect at the time of the conduct, so for many of them, there isn't any penalty.
Secondly, more than half the players have already left the game. They are beyond the jurisdiction of the commissioner. He doesn't have any authority to discipline them even if he wanted to.
Third, and perhaps more important, everybody has to work together and look forward. To be mired in contentious disciplinary proceedings for months and years will keep everyone focused on the past precisely at the time that they ought to be focused on the future.
Although, while they may not have been violating Major League Baseball rules – they may have been lacking rules – you say this was illegal use of drugs.
It was. But let me tell you that in the last several years, more than 250 professional baseball players have been suspended publicly because they tested positive in a drug test – most of them in the minor leagues, but many of them in the major leagues. Not one has been prosecuted, even though their names are in the papers as having violated the law.
That's because prosecuting authorities in this country – and I was one of them as a U.S. attorney years ago – focus their prosecutorial resources not on the individual end-user, but on the manufacturers and the distributors of drugs. That's been a public policy in place in this country for many years. And it's a sensible policy. Why should we say that with respect to baseball players, the law should apply differently than it does to everybody else in the country?
Do you think that roster of names, by the way, that's been made public – do you think that represents the majority of professional baseball – Major League Baseball players at least – who were using drugs, the half that weren't wise enough to avoid getting caught? What's your sense?
It's impossible to verify all of the estimates that have been made. I do believe that it's a minority of players who used these substances, but I also said, and even emphasized, that it's clear that I didn't learn everything. I don't know every name of every supplier; I don't know the name of every user. What I did learn was enough to accurately describe the era and to lay the basis for recommendations to deal with the problem in the future. I think that's what's important.
You raised Northern Ireland.
Yes.
You invoked your experience as a Northern Ireland mediator. What did you learn in Northern Ireland that is germane to steroid abuse in Major League Baseball?
That letting go of the past and looking to the future is a very hard thing to do. But it's necessary to deal with an ongoing problem.
Are you struck by any irony here that the Ulster men and Provos in Northern Ireland may have been more forthcoming to your mission than the baseball players union was in this case?
(Laughter.) Well, I thought about that from time to time.
Report Exposes Extent of Steroid Use in Baseball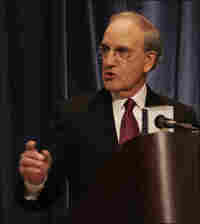 Stan Honda/AFP/Getty Images
G. Newman Lowrance/Getty Images
Related NPR Stories
Jed Jacobsohn/Getty Images
Major League Baseball has "a serious drug culture" in which steroid use is "widespread," says former Senate Majority Leader George Mitchell. His long-anticipated report on the use of performance-enhancing drugs in baseball was released Thursday, culminating 20 months of work.
No other sport in the U.S. has launched such a comprehensive investigation of doping within its own ranks. Here are some questions and answers about the report — and the problem it seeks to remedy:
What were the major findings of the Mitchell Report?
It found "a serious drug culture within baseball," one that touches every one of the 30 major league teams. The drugs in question include steroids and, increasingly, human growth hormones, which cannot be detected by standard urine tests. Mitchell named dozens of players — current and former — who have illegally used performance-enhancing drugs. The list includes stars such as Roger Clemens, Miguel Tejada, Andy Pettitte and Barry Bonds.
Whom does the report blame?
The report places blame on nearly everyone involved in baseball, including officials in the commissioner's office, the players' union, players and club owners. "There was a collective failure to recognize the problem as it emerged and to deal with it early on," Mitchell concluded. In his report, the former senator was especially tough on the players, the vast majority of whom refused to cooperate with his investigation.
Will players who used the performance-enhancing drugs be punished?
That's not likely. The alleged offenses occurred as many as nine years ago, and fully half of the players named have since retired. In addition, Mitchell implied that punishing offenders might be counterproductive. Major League Baseball Commissioner Bud Selig said the possibility of suspension would be considered on a case-by-case basis.
How long has steroid use been a problem in Major League Baseball?
For at least a decade, and probably much longer. The 1990s saw a surge in home runs and, not coincidentally, a surge in attendance, as well. There were rumors of illegal doping, but the baseball establishment — owners, players, fans — largely turned the other way, content to see the game bouncing back from the disastrous 1994 players' strike.
Hasn't that changed since then? Isn't baseball cracking down on the illegal use of performance-enhancing drugs?
Yes. It established mandatory random testing in 2003, and has steadily ratcheted up the penalties for offenders. The big turning point, from a public-relations standpoint, came in 2005, when Congress held hearings on the use of performance-enhancing drugs. Those hearings underscored the extent of the problem, even as some star players such as Mark McGwire and Sammy Sosa either denied using steroids or evaded questions about their use.
Why is the Mitchell Report getting so much attention?
Because no other sport in the U.S. has conducted such a comprehensive and thorough investigation into the use of performance-enhancing drugs. Mitchell spoke to all 30 Major League Baseball teams and conducted hundreds of interviews (though he did not have subpoena power). Allegations of illegal drug use hit home for many Americans. Many young players view the major league stars as role models, and in fact, hundreds of thousands of teen players have used performance-enhancing drugs themselves, according to Mitchell.
Why did Major League Baseball choose George Mitchell to conduct this investigation?
The former senator and prosecutor is widely respected, with a reputation for both toughness and fairness. He has led peace missions to Northern Ireland and the Middle East. He is also a lifelong baseball fan and was once considered a top candidate to be commissioner of Major League Baseball.
Why do players take steroids?
Because they work. They allow an athlete to build muscle bulk and endurance, mostly by speeding recovery from strenuous workouts. Some experts believe the drugs also enable athletes to run faster and react more quickly on the playing field.
Are steroids dangerous to a player's health?
Absolutely. Steroids can lead to relatively minor side effects — such as premature balding and acne — but also can cause serious medical conditions, such as liver disease and cardiovascular problems. They can also cause mood swings and suicidal thoughts.
Aren't steroids used for legitimate medical reasons?
Yes. They're used to treat everyone from cancer patients to children with growth problems. But the doses are usually much smaller than those taken by athletes, and the drugs are only available by prescription.
Has the steroid scandal hurt baseball's popularity?
It hasn't hurt attendance, which continues to rise.
Is the use of performance-enhancing drugs limited to baseball?
Not at all. Nearly every major sport is wrestling with this problem. How they deal with it, though, differs widely. The Olympics and professional cycling have the toughest testing regimens and the toughest penalties. After a slow start, baseball now has the harshest penalties of any U.S. team sport. Given the ringing indictment by the Mitchell Report, those penalties — and overall policing of performance-enhancing drugs — are likely to get even tougher.