A Changing China, From Oreos to Spit-Free Trains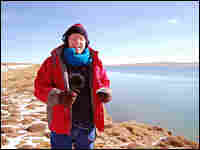 Revolutionary Karaoke
Gifford Sings 'The East Is Red' in Yan'an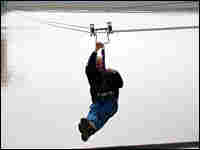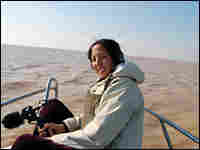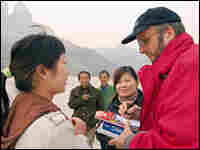 NPR's former China correspondent Rob Gifford had not returned to the country for two years, when he traveled Route 312 from east to west in the summer of 2005. Last month he returned to the country where he was based for six years and traveled the length of the Yellow River. Here he reflects on the joys of being back.
You can buy Oreos on the edge of the Tibetan Plateau. That much I can tell you, because I was wandering around a bewilderingly well-stocked department store in the western city of Xining when I came across them. Xining used to be the back of beyond, but now you can buy pretty much anything here. Wandering the streets of the increasingly bustling city, I came across a store selling just iPods — even the latest video iPod Nano, just as you would find it on sale in New York.
I had flown from the Chinese capital Beijing to Xining on my way to the source of the Yellow River, which lies a 13 hours' drive to the southwest of Xining. Two years is a long time to be away — and it was clear that much had changed even in such a short time. Xining, like so many inland cities, is now booming, with construction everywhere.
The roads are great now, with Tibetan herders zipping up and down on their newly-purchased motorbikes. (No more horses for them.) There's a cell phone signal all the way across the Tibetan Plateau, which meant that — perhaps most scary of all — my Blackberry device from London worked perfectly (until I nearly dropped it into the distinctly non-flush public toilet of the very basic hotel in which we stayed in the town of Madoi).
This river journey turned out to be much more serious than the road trip I had taken two years ago. The problems — pollution, water shortage, desertification — seemed bigger and more intractable. So we were constantly on the lookout for lighter moments to break up the gloom.
Several of these came in the former revolutionary base of Yan'an, where Chairman Mao Zedong and his comrades hid in the 1930s and 1940s as they tried to build rural support for a Communist Revolution. Outside Mao's actual cave was a stall that rented out blue People's Liberation Army uniforms, so you could dress up and have your photo taken in front of the cave.
I thought this would be a great way of interacting with the Chinese tourists so, with the tape rolling, I pulled on the uniform and stood there, with my fake wooden gun, waiting for a tour group go come up and laugh at me so that we could record a funny little interaction. But the tour groups just came and went, hardly batting an eyelid at the strange bearded foreigner standing in his blue uniform, pretending to be a Communist soldier. I got more stares and laughs sitting in my normal clothes on the train.
Then, of course, there was the old favorite, singing karaoke, which we also did in Yan'an. Amid the branches of KFC (where you can get wraps filled with fried chicken smothered with Beijing duck sauce) and the Buick showrooms (the car is now made in Shanghai), there were plenty of karaoke parlors. The difference with the karaoke here was that the bars didn't just offer the Mando-pop (pop music in Mandarin) that is now the staple of every radio station from Beijing to Lhasa. No, here in Yan'an, they offered revolutionary karaoke — classic old tunes such as "The East Is Red," "Chairman Mao You Are the Red Sun in Our Hearts," "Without the Communist Party There Would Be No New China." So, we belted out a few revolutionary numbers, much to the consternation of everyone else. And what were they serving in the karaoke bar? Hot, buttered popcorn.
Then at Shapotou, we visited a sort of desert Disneyland, where you could ride camels, slide down the sand dunes and take a zipwire across the Yellow River. This was for urban Chinese on vacation, and a whole crowd of them were milling around waiting to be strapped into the harness that was then attached to the line across the river. I was more concerned about how to attach my microphone to my jacket so I could record something about the view on the way down.
In addition to all this, there were of course the usual little "radio moments" that go into making any radio program, and which you, dear listener, never get to hear about. For instance, my NPR colleague, producer Andrea Hsu, tried to sneak up quietly on a herd of sheep to record their bleating, and ended up chasing them with her microphone across the Tibetan Plateau, like some scene out of Scooby Doo.
One of the biggest changes we noticed was on the railroads. Having spent years traveling China by rail, knee deep in litter and spit on the floor, there is now a no-litter-no-spitting-no-smoking policy on Chinese trains, and people are reprimanded for doing any of these. No smoking? No spitting? This is China, I kept thinking to myself — how can they enforce no smoking and no spitting? But they did. The trains are clean and well-organized –- now all they need to do is implement a "no shouting on your cell phone" policy, but there are plenty of countries in the West that need to do that, too.
And the trip that began with Oreos on the way to the Tibetan Plateau, ended in a hotel near the mouth of the Yellow River, with a young waiter telling me in unbelievably fluent English that he was about to travel to Ireland to study English, that he also spoke "Deutsch," and asking whether I would prefer the creme caramel or the black forest gateau for dessert.