Fans React to MLB Report, Few Surprised
Fans React to MLB Report, Few Surprised
Many fans of professional baseball say they're not all that surprised by findings of widespread use of illegal performance-enhancing drugs. Fans around the country speak out about the use of steroids in baseball, which has been whispered about as early as the 1980s.
STEVE INSKEEP, host:
So all this news has not kept baseball fans away from the game, but some people are disappointed by Mitchell's findings.
We've had local reporters and producers out speaking with fans around the country, and NPR's David Schaper rounds up their response.
DAVID SCHAPER: If Barry Bonds is the poster boy for what is now being called the steroid era in baseball, he's now got company in seven-time Cy Young award winner Roger Clemens. In San Francisco, the city Bonds played in for the last 15 seasons, at a sports bar called Double Play, the news raised eyebrows.
Mr. ALEX ALVAREZ(ph): I think it's getting more intriguing now that, you know, that Clemens is involved and a lot of other ballplayers.
SCHAPER: Alex Alvarez is a trader from Concord, California.
Mr. ALVAREZ: I think it wasn't just Barry Bonds. I think there's - it's a can of worms that has opened up.
SCHAPER: Alvarez says he hopes baseball can quickly get over this scandal. But San Francisco construction worker Jim Dickson(ph) wonders what the fuss is all about. He isn't even bothered by players using steroids.
Mr. JIM DICKSON: To me, you still have to hit a round the ball with a round piece of wood. And the point of contact is probably no bigger than a size of a nickel or a quarter. So I don't see where steroids would enhance that eye-hand coordination.
SCHAPER: St. Louis is where Mark McGwire shattered homerun records in the late '90s. He's been under a cloud of suspicion for years, and he's named in the report. But University of Missouri St. Louis student Jill Hankee(ph) says baseball's commissioner and team owners are tackling the players' steroid problem too late.
Ms. JILL HANKEE (University of Missouri, St. Louis): What are they going to do about it now? They wanted to turn their back all those years, and now they want to bring it up and make a big deal about it. But I don't think there's any way to penalize them.
SCHAPER: Other fans say they too believe owners and the commissioner looked the other way for a long time, because juiced-up players hitting more home runs boosted fan interest, and of course revenue. In a Milwaukee bar called The Harp, Ed Gaddioli(ph) says he's ready to see baseball cleaned up.
Mr. ED GADDIOLI: I'm glad they're taking care of it so that you can go to a game and not have to wonder who's cheating and you can feel good about the team that you're watching.
SCHAPER: In Chicago at Harry Carey's Restaurant, named for the late legendary Chicago Cubs broadcaster, the players named in the Mitchell report angered some fans like Mark Hill(ph) of suburban Evergreen Park.
Mr. MARK HILL: I hope they get what they deserve. I mean, they ruined baseball in a way. So some people don't care about it, but I do. So I hope they get what they deserve. All records removed.
SCHAPER: Thirty-three-year-old Chicago lawyer Terry Quinn(ph) says with all the money at stake, he understands why some players might take steroids for a competitive advantage. But Quinn agrees the integrity of the game is now damaged, and he hopes a better brand of baseball can come back.
Mr. TERRY QUINN (Attorney): I think that baseball got a little twisted in its fascination with the home run to begin with. So in a sense, you know, I would find it pleasing to move away from that. There's a whole lot to enjoy in baseball beyond someone hitting up 450-foot home run.
SCHAPER: But for all the indignation about the state of the game, not one fan said the steroid scandal would change how much they watch or attend ballgames, though some do worry about the impact it will have on young fans and players. Tom Duli(ph) is a high school baseball coach from Melbourne, Florida, tagging along with his wife on a business trip to Chicago.
Mr. TOM DULI: You've got to use it. It's a teaching lesson. There's no doubt about it. So the short cuts lead to a lot of places, some good, but sometimes a lot of bad things as well - and embarrassment, public embarrassment, as we see here.
SCHAPER: Still, Duli admits some of his players may feel not just disappointed but betrayed to find out their heroes may have cheated.
David Schaper, NPR News, Chicago.
INSKEEP: You know, people whispered about the use of steroids as long ago as the 1980s, but it was only in recent years that baseball officials began to respond. You can read a timeline of events by going to NPR.org.
NPR transcripts are created on a rush deadline by Verb8tm, Inc., an NPR contractor, and produced using a proprietary transcription process developed with NPR. This text may not be in its final form and may be updated or revised in the future. Accuracy and availability may vary. The authoritative record of NPR's programming is the audio record.
Report Exposes Extent of Steroid Use in Baseball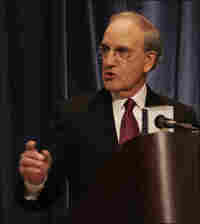 Stan Honda/AFP/Getty Images
G. Newman Lowrance/Getty Images
Related NPR Stories
Jed Jacobsohn/Getty Images
Major League Baseball has "a serious drug culture" in which steroid use is "widespread," says former Senate Majority Leader George Mitchell. His long-anticipated report on the use of performance-enhancing drugs in baseball was released Thursday, culminating 20 months of work.
No other sport in the U.S. has launched such a comprehensive investigation of doping within its own ranks. Here are some questions and answers about the report — and the problem it seeks to remedy:
What were the major findings of the Mitchell Report?
It found "a serious drug culture within baseball," one that touches every one of the 30 major league teams. The drugs in question include steroids and, increasingly, human growth hormones, which cannot be detected by standard urine tests. Mitchell named dozens of players — current and former — who have illegally used performance-enhancing drugs. The list includes stars such as Roger Clemens, Miguel Tejada, Andy Pettitte and Barry Bonds.
Whom does the report blame?
The report places blame on nearly everyone involved in baseball, including officials in the commissioner's office, the players' union, players and club owners. "There was a collective failure to recognize the problem as it emerged and to deal with it early on," Mitchell concluded. In his report, the former senator was especially tough on the players, the vast majority of whom refused to cooperate with his investigation.
Will players who used the performance-enhancing drugs be punished?
That's not likely. The alleged offenses occurred as many as nine years ago, and fully half of the players named have since retired. In addition, Mitchell implied that punishing offenders might be counterproductive. Major League Baseball Commissioner Bud Selig said the possibility of suspension would be considered on a case-by-case basis.
How long has steroid use been a problem in Major League Baseball?
For at least a decade, and probably much longer. The 1990s saw a surge in home runs and, not coincidentally, a surge in attendance, as well. There were rumors of illegal doping, but the baseball establishment — owners, players, fans — largely turned the other way, content to see the game bouncing back from the disastrous 1994 players' strike.
Hasn't that changed since then? Isn't baseball cracking down on the illegal use of performance-enhancing drugs?
Yes. It established mandatory random testing in 2003, and has steadily ratcheted up the penalties for offenders. The big turning point, from a public-relations standpoint, came in 2005, when Congress held hearings on the use of performance-enhancing drugs. Those hearings underscored the extent of the problem, even as some star players such as Mark McGwire and Sammy Sosa either denied using steroids or evaded questions about their use.
Why is the Mitchell Report getting so much attention?
Because no other sport in the U.S. has conducted such a comprehensive and thorough investigation into the use of performance-enhancing drugs. Mitchell spoke to all 30 Major League Baseball teams and conducted hundreds of interviews (though he did not have subpoena power). Allegations of illegal drug use hit home for many Americans. Many young players view the major league stars as role models, and in fact, hundreds of thousands of teen players have used performance-enhancing drugs themselves, according to Mitchell.
Why did Major League Baseball choose George Mitchell to conduct this investigation?
The former senator and prosecutor is widely respected, with a reputation for both toughness and fairness. He has led peace missions to Northern Ireland and the Middle East. He is also a lifelong baseball fan and was once considered a top candidate to be commissioner of Major League Baseball.
Why do players take steroids?
Because they work. They allow an athlete to build muscle bulk and endurance, mostly by speeding recovery from strenuous workouts. Some experts believe the drugs also enable athletes to run faster and react more quickly on the playing field.
Are steroids dangerous to a player's health?
Absolutely. Steroids can lead to relatively minor side effects — such as premature balding and acne — but also can cause serious medical conditions, such as liver disease and cardiovascular problems. They can also cause mood swings and suicidal thoughts.
Aren't steroids used for legitimate medical reasons?
Yes. They're used to treat everyone from cancer patients to children with growth problems. But the doses are usually much smaller than those taken by athletes, and the drugs are only available by prescription.
Has the steroid scandal hurt baseball's popularity?
It hasn't hurt attendance, which continues to rise.
Is the use of performance-enhancing drugs limited to baseball?
Not at all. Nearly every major sport is wrestling with this problem. How they deal with it, though, differs widely. The Olympics and professional cycling have the toughest testing regimens and the toughest penalties. After a slow start, baseball now has the harshest penalties of any U.S. team sport. Given the ringing indictment by the Mitchell Report, those penalties — and overall policing of performance-enhancing drugs — are likely to get even tougher.