New Orleans to Bulldoze Public Housing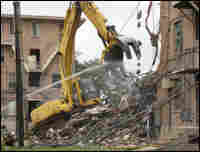 The Housing Authority of New Orleans begins a major demolition of public housing complexes this weekend. Most of the sites in the bulldozer's path are empty due to damage from Hurricane Katrina, but one still has people living in it.
The plan is to make way for new mixed-income buildings, but the displaced residents are skeptical.
The city is using Katrina as an excuse to get rid of public housing complexes and push out low-income people, says Sam Jackson, who has lived with his family for more than 15 years in one of the buildings to be demolished. He doesn't trust the Department of Housing and Urban Development's explanation that the plan to remove his home was in place prior to the storm.
This week, a group marched on Mayor Ray Nagin's house, dropping coal on his porch, just a few blocks from the bulldozers.
"People are resistant to change," says Jerry Brown of HUD, adding that demolishing and renovating the public housing is a step toward improving it, and ultimately helping people.
"The houses here are 60 and 70 years old. We want to rebuild public housing, not only for the people that will reside there now, but for the people that are going to reside there in the future," he says.
Brown and other protesters say they worry that those future residents will not include the low-income families who need the housing most.