Classical Gold: Top 10 CDs from WGBH
Is it the Golden Age, or is the sky falling? In the seemingly inexhaustible debate about the state of classical music, here's a list that votes emphatically for the former. Listen to a couple of orchestra/conductor relationships that have reached new highs, opera selections that reflect both the height of glamour and magnetic new talent, and a recording environment that rewards artists' entrepreneurial nature.
Berlin Philharmonic: Haydn
Haydn: Symphony No. 92 -- 'Finale'
The now six-year-old relationship between Simon Rattle and the Berliners took some time to jell, but along the way, some fine recordings have resulted. This is the pinnacle so far, with Rattle's own supreme grasp of the character of Haydn's symphonies combined with all the warmth, glow and agility Berlin offers at its best. (Simon Rattle conducts the Berlin Philharmonic. EMI 94237)
Nielsen: Music for Winds
Nielsen: Wind Quintet -- 'Menuet'
One aspect of the Berlin Philharmonic that makes it one of the world's best is its wind section, and this recording shows why. Sabine Meyer, Berlin's former principal clarinetist, is joined by current principal wind players for some bracing music by the Danish master, including the Wind Quintet — one of the great works written for that combination of instruments. Even when played flawlessly, this music can appear difficult, but these players make it sound as natural as waking up in the morning. (Sabine Meyer and members of the Berlin Philharmonic. EMI 94421)
Anna Netrebko: Russian Album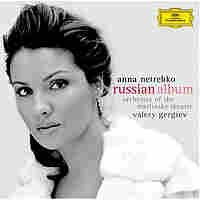 Rimsky-Korsakov: Swan-bird aria (from 'Tale of Tsar Saltan')
The glamour generated by an international team of handlers and publicists occasionally distracts from the fact that Anna Netrebko is a soprano whose voice radiates beauty like few others. In this collection of Russian songs and opera excerpts, many of them not often heard, she returns to music from her homeland with her longtime supporter and collaborator, Valery Gergiev, and his orchestra at the Mariinsky Theatre in St. Petersburg. (Anna Netrebko with Valery Gergiev conducting the Kirov Orchestra. Deutsche Grammophon 8153-02)
Danielle de Niese: Handel
Handel: 'Da Tempeste' (from 'Julius Caesar')
Anna Netrebko may be the unassailable superstar of the operatic world, but Danielle de Niese is poised to send a jolt through the art form with sheer exuberance. On her debut solo recording, Netrebko plays to the strengths that first brought her international attention in a 2005 Glyndebourne production of Handel's Giulio Cesare. Two arias from that opera are included in this collection, along with several others that reveal a singer who not only brings the warmth, agility, and emotion required in Handel, but also the sense that no one has ever had more fun singing baroque opera. (Danielle de Niese, with William Christie conducting Les Arts Florissants. Decca 10035)
Handel: Concerti Grossi
Handel: Concerto Grosso No. 2 -- 'Vivace'
Speaking of Handel, the venerable Academy of Ancient Music, with newly installed director Richard Egarr, has produced a terrific example of familiar repertoire reinvigorated, sounding as though it were just composed last week. There's a relaxed and easy quality about these performances, but they give nothing away in rhythmic vitality, an essential characteristic in Handel. (Richard Egarr conducts the Academy of Ancient Music. Harmonia Mundi 907415)
Vaughan Williams: Sym. No. 5
Symphony No. 5 -- "Scherzo"
Robert Spano and the Atlanta Symphony Orchestra continue their run of gorgeous recordings for Telarc with one of Vaughan Williams's most loved and perhaps misunderstood symphonies. Also on the disc is the mystical Fantasia on a Theme of Thomas Tallis, nicely coupled with the original Tallis tune from which it was derived. (Robert Spano conducts the Atlanta Symphony Orchestra. Telarc 80676)
Aaron Jay Kernis
Kernis: 'Play Before Sleep'
Kernis has long been acknowledged as one of this country's leading composers, and he's received all the awards and commissions to back up that reputation. This recording, though, has the feeling of getting beyond all of that, letting listeners in on more intimate aspects of Kernis' creativity. Before Sleep and Dreams, played beautifully by pianist Andrew Russo, is every bit the modern-day equal of Debussy's Children's Corner Suite, Ravel's Mother Goose and Elgar's Nursery Suite. And the title piece, 100 Greatest Dance Hits, explodes the boundaries between pop and high-art music. (Andrew Russo, piano. Black Box 1107)
Guerrero: Missa Super Flumina
Guerrero: 'Sanctus' (from 'Missa Flumina')
Britain does not lack for expert early-music choral groups, but Michael Noone's Ensemble Plus Ultra has distinguished itself not only through its impeccable performances, but also by playing out Noone's pursuit of unknown music from Renaissance Spain. This recording features a mass by Francisco Guerrero, along with plainsong performances by the Schola Antiqua of Spain and some fine instrumental accompaniment by His Majestys Sagbutts and Cornetts. (Michael Noone conducts Ensemble Plus Ultra. Glossa 922005)
Maria Bachmann: Red Violin
Paul Moravec: 'Ariel Fantasy'
Maria Bachmann has always been interested in that elusive balance between intellectually challenging, well-crafted compositions and music of popular appeal. This collaboration with Jon Klibonoff strikes that balance perfectly, with electric performances of a mostly American program that ranges from the familiar, like pieces from Gershwin's Porgy and Bess, to addictive contemporary music by Paul Moravec and John Corigliano. (Maria Bachmann, violin; John Klibonoff, piano. Endevour 1020)
Bach: Goldberg Variations
J.S. Bach: 'Aria' and Variations 9-10
Simone Dinnerstein, already with a few recordings to her name as a collaborator, practiced the Goldbergs to keep in shape while pregnant. Perhaps that's at the heart of the excitement about this performance: It transmits Bach's transformative power while simultaneously seeming to illuminate the soul of the artist herself. (Simon Dinnerstein, piano. Telarc 80692)
WGBH's Brian McCreath hosts "Classical Weekend" every Saturday and Sunday morning. He has spent the majority of his career as a professional trumpeter, performing with the Boston Philharmonic and the Albany Symphony, among others. He is the former Principal Trumpet of the Milwaukee Ballet Orchestra.