South Africa's ANC Begins Vote for President
South Africa's ruling African National Congress began voting in a leadership election. It's expected to be won by Jacob Zuma and that would put him on track to become the country's president in 2009. A Zuma win would block President Thabo Mbeki from a third term as ANC leader.
JOHN YDSTIE, host:
In South Africa, the current president is in a fierce fight for the leadership of the African National Congress. Thabo Mbeki is battling his archrival at this week's Annual ANC Convention. Why it matters is that whoever heads the party decides who leads the country.
NPR's Charlayne Hunter-Gault reports.
Unidentified Woman: The candidates for today are Thabo Mbeki and Comrade Jacob Zuma. Thank you.
(Soundbite of applause)
CHARLAYNE HUNTER-GAULT: Finally, hours behind schedule, the official nomination for president of the African National Congress ruling party.
The two candidates - current president, Thabo Mbeki, and the party's deputy president, Jacob Zuma - have been in a highly contentious campaign, their relations severely strained since Mbeki fired Zuma from his government post as deputy president over corruption allegations two years ago.
Both Mbeki and Zuma smiled throughout the nominating process, as they and other members of the organization went into damage-control mode, trying to contain the most decisive struggle in the organization's 96-year history.
(Soundbite of noisy crowd)
HUNTER-GAULT: The signs of division and tension were everywhere, not least pro-Zuma delegates booing President Mbeki's two-and-a-half hour political report and loudly singing the Zuma signature song, "Awulethe Umshini Wami" - Zulu for "Bring Me My Machinegun."
The ANC deployed its big guns to limit the damage, speaking with unusual candor to the media.
Mr. JEFF RADEBE (Member, The National Executive Committee-ANC; Minister of Transport) …was not what we are used to in ANC conferences.
HUNTER-GAULT: Jeff Radebe is a member of the highest-ranking ANC body, the National Executive Committee, and government minister of transport.
Mr. RADEBE: The tension was very visible in the conference, you know, because if you were there, you could cut it with a knife.
HUNTER-GAULT: Radebe assured the media…
Mr. RADEBE: Delegates have calmed down now. There's more understanding that we cannot afford a conference that does not do its task because of the behavior of certain individuals.
HUNTER-GAULT: The whip cracking seems to have worked on some delegates, including Daniel Lowana(ph), an official in the Eastern Cape branch.
Mr. DANIEL LOWANA (Delegate, Eastern Cape Branch): There's nothing sinister here. All what we have come here for is to pronounce on what the branches have said, that is the ANC. And the ANC is not different from any other movement that is today. And the ANC will still remain intact.
HUNTER-GAULT: But some, like a delegate from the Free State who would not give his name for fear of party retribution, think…
Unidentified Man: If one can (unintelligible) - I can see the tension. I don't believe those who doesn't win will be comfortable.
HUNTER-GAULT: Some argue that the decisions within the ANC are a reflection of new members in the organization, which has swelled in the last few years by some 200,000 members. Many of those are not wedded to the old ANC culture and traditions. But their departure from those, some argue, are not threatening to the party or the country, rather…
Dr. STEVEN FRIEDMAN (Political Analyst, Institute for Democracy in South Africa) It's a crisis in a Greek sense, which means that it may well be a turning point.
HUNTER-GAULT: Steven Friedman, of the Institute for Democracy in South Africa, argues ANC leaders in the main have been chosen by other leaders, not the rank and file now raising its voice in the conference. He says the competition between Mbeki and Zuma is probably healthy for a young democracy.
Dr. FRIEDMAN: The last election was 58 years ago. It's not impossible that this election will turn the ANC into a far more vigorously democratic organization in which grassroots people will feel that they have far more to say.
HUNTER-GAULT: Voting by 3,900 delegates is underway, with ballots being counted manually - a procedure that delayed the process by almost a day, but which some agitated delegates demanded to avoid, they argued, the possibility of vote rigging. The winner could be announced as early as today.
Charlayne Hunter-Gault, NPR News, Polokwane, South Africa.
NPR transcripts are created on a rush deadline by Verb8tm, Inc., an NPR contractor, and produced using a proprietary transcription process developed with NPR. This text may not be in its final form and may be updated or revised in the future. Accuracy and availability may vary. The authoritative record of NPR's programming is the audio record.
Power Struggle Splits South Africa's Ruling Party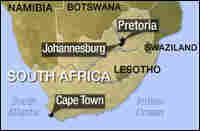 South Africa isn't scheduled to hold a presidential election until 2009, but the results could be decided this month.
The ruling African National Congress party is holding its leadership election in December, and the leader of the ANC is virtually guaranteed to win the South African presidency.
South Africa's current president, Thabo Mbeki, will have served two terms by 2009, and he is constitutionally barred from running again. But Mbeki wants to remain chief of the ANC, a post that would give him a decisive say in who succeeds him. He's facing strong opposition from his former South African Deputy President Jacob Zuma, another ANC veteran who wants his turn at the helm of the country.
A Period of Uncertainty
"It's a period of real uncertainty," says David Hirschmann, director of the International Development Program at American University in Washington, D.C. "It's the first time in a long time that South Africans haven't known in advance who their next president will be."
Robert Edgar, a professor of African studies at Howard University, calls it a "precarious time," and says it's a fundamental struggle within the African National Congress, an organization that has traditionally stressed unity and decided on its leadership before bringing it to a vote.
On the surface, Mbeki and Zuma would seem to have a lot in common. They're the same age, 65, and both were born in rural parts of South Africa. Each joined the African National Congress as teenagers and worked underground for the movement after it was banned in 1960. They worked closely together at various times during their years in exile. Both men held senior ANC party and national political offices after the ban was lifted in 1990.
Mbeki Follows in Father's Footsteps
But their experiences also diverge in significant ways: Mbeki was born in the Transkei, a Xhosa-speaking region now known as East Cape Province. Both his parents were teachers and political activists.
Mbeki's father was a member of the ANC and the South African Communist Party. He recalls growing up in a household with a picture of Karl Marx on the mantle and Mohandas Gandhi on the wall.
Mbeki joined the ANC when he was 14. As a young man, he worked for Walter Sisulu, a leader of the movement in Johannesburg. When Sisulu, Nelson Mandela and Mbeki's own father were arrested for their activism, he left the country and continued to work for the ANC abroad. He earned a master's degree in Economics at Sussex University in the United Kingdom, and later went to the former Soviet Union for military training.
Mbeki also worked for the ANC in various parts of Africa, including the exiled group's headquarters in Lusaka, Zambia. There, he started a radio broadcast aimed at ANC supporters across the border in South Africa. In 1989, he was the ANC's lead negotiator in secret talks with members of South Africa's apartheid government, talks that ultimately led to the lifting of the ban on the group and the release of ANC leader Mandela. After 28 years of exile, Mbeki returned to South Africa when Mandela was freed in 1990.
Zuma's Rocky History
Zuma was born in Zululand, now known as KwaZulu-Natal Province. His family was poor, and his official ANC biography says that he received no formal education. He was 17 when he joined the African National Congress in 1959, just a year before it was banned.
Three years later, he was arrested with a group of ANC militants and sent to the political prison on Robben Island. He spent 10 years on the island, in the company of ANC leaders such as Nelson Mandela.
Like Thabo Mbeki, Zuma helped organize young South African activists who escaped to exile in Swaziland, Mozambique and Zambia. After the ban on the ANC was lifted in 1990, he returned to KwaZulu-Natal Province and was active there in local politics. He held top ANC posts, and was named by Mbeki to be South Africa's deputy president in 1999.
Mbeki dismissed Zuma as his deputy in 2005, after Zuma was accused of corruption involving defense contracts and private real-estate development. Although two of his associates were found guilty, Zuma was never prosecuted. Corruption charges against him could be re-instated.
Stances on HIV, AIDS
Zuma was also tried and acquitted of rape charges in 2006, after a court found that the sex involved was consensual. The incident caused even more controversy because Zuma was head of South Africa's national AIDS Council at the time, and acknowledged that he knew the woman involved was HIV-positive. Anti-HIV activists were outraged when he told the court that the only protective measure he took was to take a shower.
Mbeki has had his own AIDS controversy. In 2000, he sided with a small group of scientists who deny that the HIV virus causes AIDS. His government has since reversed that stand, but it has been accused of failing to deal effectively with an epidemic that is estimated to affect more than 5 million South Africans.
Howard University's Robert Edgar says that although Zuma's sexual escapades and Mbeki's views on AIDS have attracted international attention, they're less important to South African voters than issues such as crime and the economy.
Support Leaning to Zuma
Edgar says that one factor that does make a difference between the two men is Zuma's identity as a Zulu.
"At one level in South Africa, you don't have the ethnic rivalries that bedevil a lot of African countries. The ANC makes a concerted effort not to favor any one group," Edgar says. But he notes that most top ANC leaders since the 1940s have been members of the Xhosa ethnic group, the so-called "Xhosa Nostra," and many Zulus feel it's time for another group to lead the party.
American University's Hirschmann notes that in the ANC's provincial nominating process, delegates from five of South Africa's nine provinces expressed support for Zuma over Mbeki. Two figures who could step in as compromise candidates are business magnates Cyril Ramaphosa and Tokyo Sexwale, both of whom have long histories as ANC activists.
Edgar stresses that the ANC's December conference is likely to be only a first round in an extended struggle for control of the party and South Africa's future.