'Toilet to Tap' Planned for Orange County Water
'Toilet to Tap' Planned for Orange County Water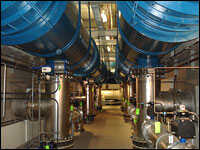 With low reservoirs and dry forecasts ahead, many California cities are being forced to consider new options for providing drinking water — options that may not be appetizing.
Orange County has spent almost $500 million dollars on a new water-purification plant to turn wastewater into drinking water. The plant is scheduled to come online this week.
The new plant has a control room that features giant computer screens showing the status of every pipe, water basin and filter in the system.
Returning Water to Nature
"This is an amazing control system," said Shivaji Deshmukh, program manager for Orange County's Groundwater Replenishment System. "You can keep track of every valve control point. It's measuring PH and conductivity, which is a reflection of how much salt is in the water, so we're keeping track of this constantly."
But the real action takes place downstairs in a labyrinth of pipes. Engines push the water through the plant's microfilters. Using high pressure, reverse osmosis, it's then forced through a thin membrane. Finally, the water is injected with peroxide and blasted with ultraviolet light to remove lingering hormones and dissolved pharmaceuticals.
At the end of every day, 70 million gallons of drinking water — 10 percent of what the county needs — get pumped back underground into the aquifer.
"We return the water to nature. We put the water back into the ground, and we let Mother Nature take over from us," said Mike Wehner, assistant general manager of the Orange County Water District. He said his product is so pure that the agency has to add lime back into it to keep the water from eroding the cement pipes.
"I think it's a viable solution everywhere in the world," he said. "People don't have any objection to sending astronauts up into space and having them live for weeks at a time recycling their own wastewater. Well, down here on the ground, we can apply the same kind of technologies."
But some Californians said they do not like the idea of drinking recycled wastewater.
"I'm all for recycled water but don't use it in our reservoirs or our drinking fountains. Why take the chance?" asks Muriel Watson, a retired San Diego schoolteacher.
Wilson is a member of the "Revolting Grandmas" — a group that is revolted by the plan to replenish reservoirs with treated sewage water.
Some California cities are also looking into the idea, though they are wary of the public's reaction.
But the distasteful idea of drinking recycled wastewater is only part of the debate. It's also about energy.
Energy Is a Factor
About one-fifth of California's energy is used to move water from north to south through the state water project.
Bruce Reznik said new sources of potable water should not demand even more.
"We want to make sure that we're not trading water security for energy insecurity," Reznik said.
His group, San Diego Coastkeeper, supports water recycling, and he even likes the term "toilet to tap" because the process uses less energy and emits less carbon than the existing state water project.
"It reduces our energy footprint as long as we don't use these new water supplies to then sprawl out and have more development," he said. "If we actually use it to offset our imports, it can be a win for us on energy. Of course, it helps promote water stability and security."
From member station KCRW, Dan Konecky reports.