Effort Builds to Help 'Forgotten' Troops with PTSD
Effort Builds to Help 'Forgotten' Troops with PTSD
Uloth's Superior Speaks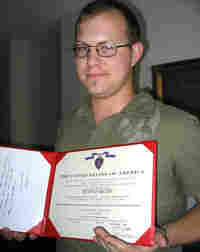 Matt McLauchlen explains to NPR's Daniel Zwerdling how he has "fallen through the cracks" of the military system.
Read Letter to President Bush
"Our military families deserve better," President Bush declared in October as he sent a proposed bill to Congress. The legislation, he said, would make it easier for our troops to receive care for PTSD, "and it will help affected service members to move forward with their lives."
But veterans advocates say that even if the military and the Department of Veterans Affairs became models for helping troops with mental health problems, it wouldn't help a large category of vets who are already wounded and forgotten. These soldiers and Marines came back from combat, couldn't get adequate help, "flipped out" and misbehaved in some way — and as a result, were kicked out of the military without all the financial and medical benefits that veterans usually receive.
"I think it's an outrage that we have not taken proper care of them," said Sen. Christopher "Kit" Bond (R-MO), one of the most influential voices on veterans' affairs. "Too many of these people have been kicked out because of the results of the stress they've been under."
'Head and Shoulders Above His Peers'
NPR has tracked down dozens of vets across the U.S. to put a face on the problem.
Until he got PTSD, Patrick Uloth was a poster boy for the Marines in Iraq. He enlisted right out of high school, fought two tours and quickly was promoted to lance corporal. His commander hailed him as "head and shoulders above his peers." He received an award for valor, for helping save his unit one night near Fallujah.
But, like just about every Marine and soldier who has fought in Iraq, Uloth saw violence and death in ways that most people can barely imagine. During one patrol, for instance, a suicide bomber's vehicle exploded in front of Uloth's convoy.
Uloth said that the explosion left one of his Marine buddies decapitated. He remembers that he and two other Marines "scooped the Marine into bags, because he was in pieces." When Uloth rushed to another victim, he realized it was one of his best friends. "There was a large hole in the back of his head," Uloth says.
The Onset of Conversion Disorder
It has been three years since his brothers, as he calls them, were killed that night near Fallujah, but Uloth still struggles not to cry when he talks about the incident.
When Uloth came back to the U.S. in late 2004, his family said he was a different person. They, along with Uloth's medical records, document the changes: He would go days without sleeping. He avoided friends and started doing drugs.
He also shoved his wife against the wall; she later told officers that Uloth used to be gentle and loving until he came home from Iraq.
Uloth started having seizures. Doctors diagnosed the seizures as "conversion disorder" — a physical manifestation of serious mental health problems. According to Uloth, he'd lie in bed shaking uncontrollably, and he'd see visions of his friends getting blown up in Iraq.
Uloth says that when he went to the mental health center at Camp Pendleton's hospital to ask for help, they were so overwhelmed by returning troops with mental health problems that he couldn't book a therapy appointment for months. The staff eventually gave him sporadic counseling, and prescribed a cocktail of powerful medications, but Uloth complained that the drugs made him feel worse.
So, he took off from Camp Pendleton without permission: Uloth went AWOL, as it's commonly called. (The Marines call it UA for "unauthorized absence.")
But he didn't disappear. Instead, Uloth checked himself into a psychiatric center he had heard about at an Air Force base in Mississippi. He started getting intensive therapy, which he couldn't get at his own base.
When Uloth's commanders learned where he was, they sent two guards to arrest and restrain him with handcuffs and metal shackles. They locked him in a jail cell at Camp Pendleton for almost two months, even though a military medical staff member concluded that he was "unfit for confinement."
Less Than Honorable Discharge
And then, commanders at Camp Pendleton gave Uloth a "less than honorable" discharge. That means the federal government won't give him disability payments, even though the military's medical staff diagnosed him with "uncontrollable trembling," "memory loss" and "chronic PTSD."
The government won't pay Uloth's way through college under the GI Bill. And Uloth's less than honorable discharge likely means that he can't get medical treatment at the VA. According to federal rules, officials at local VA centers have discretion to help vets with that discharge if officials consider the vets to be "meritorious," or turn them away.
Veterans' advocates say VA officials have been turning away veterans with less than honorable discharges; mental health specialists say that many veterans with PTSD, like Uloth, are too fragile to fight the system.
Uloth says that if he had benefits, he'd check himself into a psychiatric hospital because, although he can seem charming and cheerful on the surface, he says he is in deep emotional trouble.
His friends have rushed him to the emergency room several times in the past year because of his flashbacks and seizures.
During one episode, Uloth thought he was still in combat, says Scott Joseph Abney, his housemate and childhood friend. "He'd ball up in a corner and then he'd get kind of violent, trying to defend himself," Abney says. "He broke cell phones. He broke computers. He threw stereo equipment. He was in a rage."
Abney says it took at least half an hour to talk Uloth out of his trance and convince him to go to a medical center.
"He was back in Iraq," Abney says.
Marine Corps have not responded to repeated requests to talk about Uloth's case.
Push for Change
NPR tracked down dozens of vets like Uloth, including Marcus Johnson in Oregon; Nicholas Jackson in Georgia; Matt McLauchlen in California; and Jason Harvey in Florida. Their stories are variations on the same script: They fought in Iraq, got PTSD, couldn't get much help, got in trouble — and got kicked out without all their benefits.
NPR asked Pentagon officials to disclose how many vets with mental health problems have been discharged without all their benefits since the U.S. invaded Afghanistan and Iraq.
Pentagon spokesmen told NPR they don't know.
The Army said that since the U.S. went to war in Iraq, the Army alone has discharged about 28,000 soldiers for bad behavior, from taking drugs to going AWOL to assault. An Army spokesman said they can't tell how many of those soldiers were diagnosed with mental health problems, but medical specialists say troops who have PTSD or traumatic brain injury commonly misbehave in exactly those kinds of ways.
So advocates like Gary Myers, a former Army lawyer now in private practice, call on the nation's leaders to declare an amnesty. They say lawmakers should restore full benefits to all troops who were discharged for misconduct or other behavior after they returned from combat if they were also diagnosed with mental health problems such as PTSD.
"Congress needs to change the law," Myers says. Myers says commanders have to discipline troops who misbehave or it would destroy military discipline. But Myers adds, "We can no longer treat this as business as usual."
But Bond and almost a dozen other senators have asked President Bush to form a special commission to review the files of all vets who were diagnosed with mental health problems and discharged without all their benefits — and then restore those benefits, where commissioners believe that PTSD or other combat-related mental health problems played a major role.
"We need to take care of the soldiers and Marines who have been kicked out without benefits," Bond told NPR, "and may have done so because of undiagnosed, unrecognized mental health problems they may have. It's simple justice."
Officials at the Pentagon did not respond to NPR's repeated requests for comment.