Moby: Making His 'Last Night' One to Remember
Moby: Making His 'Last Night' One to Remember
'Hyenas' - Moby
'Incense and Peppermint' - Strawberry Alarm Clock
'Hurdy Gurdy Man' - Donovan
'Going to California' - Led Zeppelin
'Live for Tomorrow' - Moby
'Only the Lonely (Know the Way I Feel)' - Roy Orbison
'Always Crashing in the Same Car' - David Bowie
'Convoy' - C.W. McCall
'Sweet Apocalypse' - Moby
'Memories Can't Wait' - Talking Heads
'Sister Europe' - The Psychedelic Furs
'Satellite of Love' - Lou Reed
'Ooh Yeah' - Moby
'Just A Little Lovin' - Dusty Springfield
'Falling' - Julee Cruise
'Boom Boom' - John Lee Hooker
'Europa and the Pirate Twins' - Thomas Dolby
'Trash' - The New York Dolls
'Boogie Chillun'' - John Lee Hooker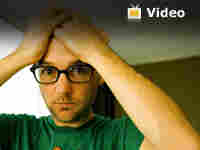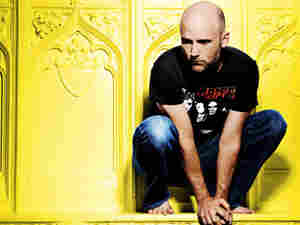 In March, Moby will release his sixth studio album, Last Night. On it, Moby says, he's trying to get back to his dance-music roots. The album is meant to condense one epic, eight-hour night into 65 minutes of music.
Moby came out of the New York City club scene of the '80s, and has always loved the rave-y, piano-heavy, four-on-the-floor dance anthems of the era. This is particularly evident on his new songs, such as "Everyday It's 1989."
The record's single, "Alice," started as a mistake. Moby says he was playing the bassline through a broken distortion pedal and ended up with a strange sound that he decided to keep. Then he assembled a motley crew to sing over it, including a friend who makes her living as a burlesque dancer, someone whose songs he heard on MySpace and friends of someone at his management company.
Though he's been busy writing songs, Moby found the time to start a new venture: MobyGratis offers songs to filmmakers for free. While a film student at SUNY Purchase, Moby says, he met a lot of people involved with film, and their biggest complaint was always licensing music. Record companies wouldn't return phone calls, publishers would say no, or whoever owned the song wanted too much money. He started MobyGratis to circumvent that process.
Generosity and hard labor aside, Moby insists he is not the teetotaling, humorless vegan some members of the press have portrayed him to be. In fact, he says, "I'm just a drunk who makes music. I go out too often, and I drink too much. I like tea and yoga, but I don't do yoga."
On the Bryant Park Project blog: Moby annotates his playlist and previews his new album.
Video: Moby talks about editing yourself.