Through the Snow, Toward the Sun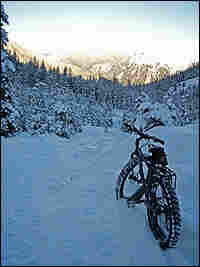 Jill Homer of Juneau, Alaska, is training to ride 350 miles in the human-powered Iditarod. The race, which starts in February, follows the same route used by the famous dog sled teams.
These are dark days.
And with the winter solstice at hand, they don't get much darker. The sun rises late in the morning, hangs low on the horizon for a few hours, and sets early in the afternoon. The remaining hours are shrouded in darkness, and it seems to have a negative effect on the moods of people in Alaska.
Getting out of bed becomes an optional activity. Oreos, Twinkies and Fruit Loops dominate our cupboards. Even the bell-ringing Santas start muttering, "Why bother?" in place of the usual "Merry Christmas."
Darkness can have a negative effect on training motivation as well. It's difficult, because this is the time of year my boyfriend, Geoff, and I need to be most active. With only nine weeks until the Iditarod Invitational, we are nearing our peak training, both in time spent exercising and the effort we put into it. Despite the demands of our training regimen, the race still seems far away ... more of an abstract idea than a scary reality. Fear can be a great motivator. Seasonal Affective Disorder ... not so much.
Geoff and I both have our own methods for coaxing ourselves out the door to train during the cold, gray mornings of December. I become emotionally dependent on my iPod. Geoff likes to promise himself naps. Both of us have had our fair share of "Screw this!" moments that result in cutting short our rides and runs. But I often find that the rides I am least excited about become the most enjoyable, or at least the most memorable.
For the past few days, I have been making an effort to hit the snow — riding over snowmobile tracks and powdery trails — in order to sharpen my handling skills and get used to the tough, uneven pace of the Iditarod Trail. Snow biking is a whole different animal compared to other types of cycling. If road biking was a thoroughbred racehorse, and mountain biking was a bucking bronco, snow biking would be a stubborn mule. It makes you earn every inch, and even after you've earned it, it still sometimes kicks you face-first into a mound of powder.
And so was my attitude on Wednesday — a bit stubborn, a bit surly. A myriad of new bruises and sore muscles followed me into a morning that burned orange with the low light of an oh-so-brief appearance of the sun.
The thermometer registered 15 degrees. A chance to absorb some precious vitamin D demanded that I at least make an effort to get out, but I didn't have much energy. I mounted my bicycle and began the uphill slog.
As I moved further up the mountain, beads of sweat formed on my forehead and particles of frozen breath collected on my coat. The snow pack deepened with the rising elevation until it covered entire trees ... more like marshmallow mounds than forms of life. The air itself was crisp and sweet, and starkly quiet. I glanced up at the deep blue sky just in time to see a bald eagle soaring over my head. I had traveled less than four miles from my house and somehow landed in this pristine expanse of wilderness. It was so familiar and yet so strange. I had to stop for a moment, just to breathe it all in.
This beauty surrounds me every day — even when the nights are long; even when the city is filled with harried Christmas shoppers; even when the streets are streaked with stress-fueled drivers; even when I feel the first tinges of SAD. The sublime pieces of snow biking are never far away. All I need to do is get out the door.
Related NPR Stories
Web Resources