S. Africa's New ANC Leader to Face Charges
South Africa's top prosecutor says he has enough evidence for corruption charges against new African National Congress leader Jacob Zuma, which could derail his election as the country's next president. Zuma beat President Thabo Mbeki in a bitter ANC leadership contest Tuesday.
JOHN YDSTIE, host:
This is MORNING EDITION from NPR News. I'm John Ydstie, sitting in for Steve Inskeep.
RENEE MONTAGNE, host:
And I'm Renee Montagne.
Criminal charges await the man slated to become the next president of South Africa. The country's top prosecutor says he has enough evidence to charge Jacob Zuma with corruption. Yesterday's announcement came just two days after Zuma ousted current President Thabo Mbeki as leader of the African National Congress. As the head of the ANC, Zuma is in line to take over as South Africa's president when Mbeki steps down in early 2009.
We go now to NPR's Charlayne Hunter-Gault who has been following the story. Hello.
CHARLAYNE HUNTER-GAULT: Hi, Renee.
MONTAGNE: What is known, at this point in time, about those charges against Jacob Zuma?
HUNTER-GAULT: Well, as you know, Renee, this is not a new situation. Once, Jacob Zuma's business adviser, Schabir Shaik, was sentenced to 15 years in prison for paying a bribe to Zuma. The National Prosecuting Authority began looking at Zuma. And initially, they said they didn't have enough evidence to convict him or to charge him because there were only two situations that might have been fraudulent.
But now, they have found more evidence that totals the equivalent U.S. $400,000 in today's exchange rate. And as the result of that, they have new charges like income tax evasion and racketeering in addition to corruption and bribery and fraud.
MONTAGNE: And the national prosecutor said that they've got enough to bring charges and, in fact, expects to bring charges. What does Jacob Zuma say to this?
HUNTER-GAULT: Well, Jacob Zuma made the rounds of the media yesterday and today. He defended his relationship with Schabir Shaik, calling him a family friend and a longtime colleague, but he refused to comment on the charges. He said he'd cross that bridge when he comes to it.
But I have talked to people, high up in the Zuma camp, who say that he was expecting this. And my sense of what they were saying to me was that he was prepared to defend it.
MONTAGNE: Charlayne, this would seem to set South Africa after, you know, years of calm under Nelson Mandela and then Thabo Mbeki on a period of political turmoil.
HUNTER-GAULT: Well, I think the African National Congress is aware of the potential disruption if a case is brought against this new president. In line to succeed him, in the event that he gets entangled in what is expected to be a very long trial, is the deputy president. So there is a very competent stand-in, but there would indeed be a lot of turmoil because a lot of the attention will be focused on the trial instead of the - conducting the affairs of the party as well as government.
MONTAGNE: Charlayne, thanks very much.
HUNTER-GAULT: You're welcome.
MONTAGNE: That's NPR's Charlayne Hunter-Gault, speaking to us from Johannesburg, South Africa.
Zuma's victory could set up two opposing centers of power: one in the South African government and one in the ANC. You can read more about the rift and the history of the African National Congress at npr.org.
NPR transcripts are created on a rush deadline by Verb8tm, Inc., an NPR contractor, and produced using a proprietary transcription process developed with NPR. This text may not be in its final form and may be updated or revised in the future. Accuracy and availability may vary. The authoritative record of NPR's programming is the audio record.
Zuma Victory Raises New Questions for South Africa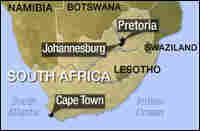 Jacob Zuma, the new head of South Africa's ruling party, wore a broad smile recently as he accepted congratulations from his main rival for the job, South African President Thabo Mbeki.
On the surface, the scene marked a gracious end to a fierce struggle for power in the African National Congress, but it's unclear whether the civility will continue.
The ANC is so powerful in South Africa that the party leader is almost guaranteed to win the country's presidency. Mbeki was the ANC's chief when he was first elected South Africa's president in 1999, and he remained at the head of the party during his re-election to another five-year term.
Mbeki is constitutionally barred from serving a third term, and if he had followed a pattern set by Nelson Mandela, he would have stepped down from the presidency of the ANC to clear the way for his successor. But Mbeki tried to hang on to the party leadership, choosing to fight for it in a contest with his former colleague, Zuma.
Mbeki's term as South African president is up in 2009. If he had won the recent party election, he would have had a strong influence over the party's choice to be his successor. It's unlikely that he would have picked Zuma. Their personal and ideological differences have grown too great.
The personal rift surfaced in 2005, when Zuma became embroiled in scandals involving real-estate deals and alleged bribes from a French weapons supplier. Although two of his close associates were convicted, prosecutors didn't go through with a case against Zuma. Mbeki fired him as deputy president despite pleas from Zuma supporters, who said the firing amounted to punishment for a man who had not had his day in court. That day could still come, now that prosecutors claim to have more evidence.
Zuma has also been accused of sexual misconduct. He was tried and acquitted of rape charges in 2006, after a court found that the sex had been consensual. The incident caused even more controversy because Zuma was head of South Africa's national AIDS Council at the time, and he acknowledged that he knew the woman involved was HIV-positive. Anti-HIV activists were outraged when he told the court that the only protective measure he took was to take a shower.
Zuma and Mbeki are the same age, 65, and they come from ideologically similar backgrounds, with family roots in the Communist Party and the struggle against apartheid. Both rose through the ANC ranks during decades in exile and, at times, they worked closely together. But their ideas have diverged in the years since the ANC became South Africa's ruling party.
Mbeki has pursued generally business-friendly policies as president, spurring economic growth but doing little to reach people at the bottom of the financial ladder. Zuma, a populist, won the ANC leadership role with strong support from labor unions and the South African Communist Party.
Those groups want him to speed up land-reform policies, nationalize key industries and provide more government support for the country's poor majority. Before his election, though, Zuma went to great lengths to assure domestic and foreign investors that he wouldn't tamper with most of Mbeki's free-market policies.
Since Mbeki has more than a year remaining in his term, South African political analysts have warned that Zuma's victory could set up two opposing centers of power, one in the South African government and one in the ANC. For now at least, they're promising that won't happen.