Teen Talent Takes the Spotlight in Columbus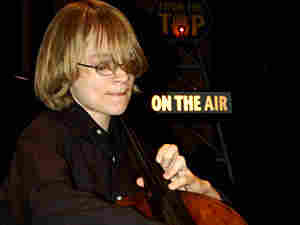 At the Southern Theatre in Columbus, Ohio, a lone pianist holds her own playing Prokofiev amid a bevy of string players. Among the other talented musicians on display are a 17-year-old violinist, two "feuding" string quartets, and a 14-year-old cellist with music in his blood.
Coleman Itzkoff, 14, says he was destined to become a musician. "My dad is a violinist in the Cincinnati Symphony and my mom is principal violist of the Cincinnati Chamber Orchestra," he says. "Even most of the people in my extended family play music. It's in my blood." Itzkoff plays the Polonaise Brillante by Frederic Chopin.
Every Saturday, 17-year-old Siwoo Kim wakes before the crack of dawn to make a seven-hour drive to the Music Institute of Chicago. There, he studies with acclaimed violin teacher Almita Vamos. "Every lesson, I gain something new," he says. Kim performs "Sabre Dance" by Aram Khachaturian, arranged by Jascha Heifetz.
Stephanie Chan realized she wanted to play piano at the age of 5, when her mom took her to an orchestra concert. "I was fast asleep during most of the concert, but I woke up when a pianist began playing the Tchaikovsky 1st Piano Concerto," she recalls. "It was at that moment that I fell in love with music." Chan is passionate about teaching piano and dreams of one day opening her own studio. She plays music from the Piano Sonata No. 6, by Sergei Prokofiev.
The string quartet called Seraphina is composed of two sets of string-playing sisters: Caeli and Madeline Smith and Genevieve and Sabrina Tabby. Violinist Caeli Smith says that having siblings in the group makes communication easier. "In our group, if somebody's getting out of line, her sister can just yell at her." Seraphina plays music from the String Quartet No. 8, by Dmitri Shostakovich.
Opus is a quartet of string-playing friends who have been together since the fall of 2003. When they're not tackling string quartets by Beethoven and others, members of the group especially love to tease each other about their individual quirks. One is a know-it-all, another is argumentative, and yet another has moments of confusion. The group, composed of 18-year-old violinists Jeffrey Myers and James Rubino, 17-year-old violist Reuben Payne, and 18-year-old Matthew Kufchak, plays music from Beethoven's String Quartet No. 9.