Giuliani Tries to Keep Lead in New Hampshire
The presidential candidates are trying to pack in as many appearances as possible in Iowa and New Hampshire this weekend, before Christmas. Rudy Giuliani is in New Hampshire. His lead in national polls has been slipping.
ANDREA SEABROOK, host:
From NPR News, this is ALL THINGS CONSIDERED. I'm Andrea Seabrook.
With Christmas just three days away, the presidential candidates are campaigning frenetically through Iowa and New Hampshire. They know voters will want to put politics aside, at least for the holidays. Iowans go to the caucuses, January 3rd, and New Hampshire holds its primary just five days later.
So if the candidates falter in Iowa, they're hoping to regroup quickly in the live-free-or-die state.
NPR's Audie Cornish is up New Hampshire.
Audie, today, you are at a Rudy Giuliani event. How did he look? He just spent a day in the hospital with flu-like symptoms.
AUDIE CORNISH: Well, he was certainly subdued. It was a very sort of calm and straightforward event, where he talked more about this new - fairly recently unveiled campaign theme, which is "Tested, Ready and Now." And he gave short speech. He really was all over the map in terms of taking questions from the audience and addressing a number of issues at once.
And he said afterwards that he's feeling good and that in the end what he suffered was just a headache, and that he's had all the requisite tests and understands people's concerns about having been a cancer survivor. But that now, he is fine.
SEABROOK: So "Tested, Ready and Now." Giuliani once had a solid national lead in the polls, but his numbers have been slipping, Audie. How is he doing up there in New Hampshire?
CORNISH: Well, one thing you have to remember on the Republican side is that governor Mitt Romney's a former governor of Massachusetts, a neighboring state. And so although Giuliani did appear in the top three and maybe in the beginning of the year, he's slowly slipping into second and third and especially with the focus that Senator John McCain has put on the state and really visiting the state quite a bit. And Giuliani has really spread his efforts all over the country, you know, as part of his national, sort of, strategy instead of focusing on those early states like Iowa and New Hampshire.
And so while Giuliani, it seems, really isn't doing much in Iowa these days, he's making some effort in New Hampshire, and that's really only maintaining his status, really, around the third place at this point.
SEABROOK: Audie, there's some fascinating new polls out today, numbers that seems to be really disparate depending on the poll. I think the CNN poll has Hillary Clinton with a big lead over Barack Obama in New Hampshire, whereas the Gallup-USA Today poll has them in dead even. What do you make of all that?
CORNISH: Well, first of all, in New Hampshire, you have nearly 44 percent of voters here who are registered undeclared. Sometimes, they're called independents. They can vote in either primary.
And one thing I've noticed at the campaign events this week is that voters are still very much open. I'm finding Democrats at Republican events. I'm finding independents all over, and the candidates are still putting quite a bit of time here. I mean, just when people started to say Edwards is focusing on Iowa, he made plenty of stops in New Hampshire and promised to be back after Christmas. So I think what you're seeing is really reflecting just sort of how wide open it still is, especially in New Hampshire.
SEABROOK: NPR's Audie Cornish in Hopkinton, New Hampshire. Thanks very much, Audie.
CORNISH: Thank you.
NPR transcripts are created on a rush deadline by Verb8tm, Inc., an NPR contractor, and produced using a proprietary transcription process developed with NPR. This text may not be in its final form and may be updated or revised in the future. Accuracy and availability may vary. The authoritative record of NPR's programming is the audio record.
Ex-Mayor Rudolph Giuliani (NY)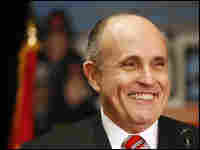 First Campaign
Read about Rudolph Giuliani's first campaign.
For much of last fall, former New York City Mayor Rudolph Giuliani — "America's mayor" — also seemed well-positioned in his bid to become America's next president. He led his rivals for the GOP nomination in third-quarter fundraising in 2007, and also led the pack in national polls. But those poll numbers have plunged remarkably quickly — a reflection of his weak finishes in the early voting presidential contests held so far.
Not that he focused his efforts on those states. Instead, Giuliani has long pinned his presidential bid on an unconventional strategy: Win Florida's delegate-rich primary on Jan. 29, then let the momentum carry him through to victory in other delegate-rich states where he is well known — New York, New Jersey and Connecticut — voting on Feb. 5 (Super Tuesday). That strategy took a hit recently when the editorial board of The New York Times decided to endorse rival GOP hopeful Sen. John McCain of Arizona. The same editorial described Giuliani as "a narrow, obsessively secretive, vindictive man."
But the bigger obstacle Giuliani faces is that, despite spending much of his time and money campaigning in the Sunshine State, his lead there has disappeared, and he now trails in the polls. The state's primary looks less like his catapult to the nomination than the site of his possible last stand. As his poll numbers have dropped, so has his fundraising: In January, some top campaign staffers gave up their salaries — a strong indication that he's running out of cash.
Giuliani earned the gratitude of a shaken nation after his resolute and reassuring performance as mayor of New York City in the wake of the terrorist attacks of Sept. 11, 2001. He was on the world's television screens, trudging through the ash and smoke, organizing the emergency response and declaring, "I want the people of New York to be an example to the rest of the country, and the rest of the world, that terrorism can't stop us." He was given an honorary knighthood by Queen Elizabeth. He was Time magazine's Person of the Year for 2001.
For much of his campaign, Giuliani made national security the cornerstone of his candidacy, calling for the nation to go on the offensive in what he calls "the terrorists' war on us." He has also touted his record of fighting crime in New York, first as the U.S. attorney there, then as mayor for eight years, during which time the crime rate was cut in half. And he has said that the wants to adapt the computerized crime-tracking system used during his administration to combat illegal immigration. Recently, as the troubled U.S. economic has emerged as the top issue for voters Giuliani has switched focus, emphasizing his role in strengthening New York City's economy over his record on handling Sept. 11.
While that record may appeal to conservatives, Giuliani's positions on social issues may not. He supports abortion rights, gun control and domestic partnerships for gay couples. His personal life also makes many social conservatives uneasy.
Giuliani has been married three times. The break-up of his second marriage was a feast for the New York tabloids, when he announced he planned to leave Donna Hanover at a press conference. Giuliani and Judith Nathan were married in 2003.
His actions in the aftermath of the Sept. 11 attacks have given Giuliani near-universal name recognition. But his record on national security has some question marks. He was originally a member of the Iraq Study Group (also known as the Baker-Hamilton commission), but failed to attend meetings. His financial disclosure forms show he was attending paid speaking engagements instead. He eventually resigned.
And in 2004, Giuliani recommended his former police commissioner, Bernard Kerik, to be the director of Homeland Security. The Bush administration nominated Kerik for the position, only to be embarrassed when it was revealed that Kerik had taken tens of thousands of dollars in gifts when he was a city official. Kerik later pleaded guilty to two criminal counts and is still under federal investigation. Giuliani has called his recommendation of Kerik a mistake.