Weather Expected to Delay Flights This Holiday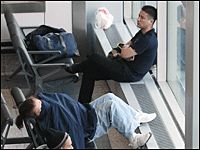 About 65 million Americans are expected to travel during this holiday season, and AAA says that 9 million of them will leave their cars behind and take to the friendly skies.
That may not have felt like a good decision to stranded passengers who spent Friday night at Chicago's O'Hare airport, after flight cancellations due to heavy fog. Spots of bad weather promise to cause more problems in the coming days but there are a few things you can do to help make the airport experience less painful.
At the National Weather Service in Chicago, Chris Bitro says conditions there are improving.
"Luckily we have a warm front looping through the area now and we're hoping that winds become a little bit stronger, which will help clear some of that fog and low visibility out of the area," Bitro says. But he says that winter storms and snow, along with freezing cold, will make traveling a bit tricky in Kansas, Iowa and parts of Missouri.
If you must travel this holiday, common sense will serve you well.
"Everything you carry into the airport should always have your name on it — some kind of a name tag," advises Sam Silberstein, who works in the lost and found at Newark's Liberty International Airport.
And Ofealia Ruiz, who works in customer support at Newark's airport, says people should consider putting their mom's number in their cell phones.
"One of the things we get a lot of is cell phones," Ruiz says. "Usually what we do to match up cell phones with customers is to look for 'mom.' Everyone, of course, has 'mom' stored in there."
Back in Chicago, airport system spokeswoman Karen Pride, suggests passengers pack some patience for the next couple of days.
"Call ahead and check Web sites for flight status," Pride says. "Arrive at the airport two hours ahead of flight time and don't bring wrapped packages." That's unless you want them to be unwrapped by security!
Pride also reminds travelers not to park in the drop-off lanes at the airports. All you can do there is drop off.
"So if you have a long goodbye or you want to spend time with friends and family before you go, we do have what we call a 'kiss-and-fly' lot," Pride says.