Pakistan's Bhutto Killed in Suicide Bomb Attack
Pakistan opposition leader Benazir Bhutto was killed in a suicide bomb attack on her vehicle. An aide of Bhutto's Pakistan Peoples Party says the leader was dead. It was not immediately clear whether she was killed in the bomb or by gunfire that preceded the attack.
Bhutto was the daughter and political heir to Pakistan's founding father, Zulfikar Ali Bhutto. Her father served as the country's prime minister in the 1970s. In 1979, he was accused of having ordered the killing of a political opponent and he was executed. Benazir Bhutto served two terms as prime minister in the late 1980s and 1990s.
Bhutto Assassination Sparks Violence in Pakistan
Bhutto Campaigned Despite Risk of Attack
Benazir Bhutto had been warned by President Pervez Musharraf and others not to campaign so publicly, but she remained defiant. "I put my life in danger and came here because I feel this country is in danger," she said Thursday. Read more about security at the rally and details of the attack.
In Focus
Bhutto: A Brief Bio
Born June 21, 1953, into a wealthy landowning family in southern Pakistan
Daughter of a former prime minister, Zulfikar Ali Bhutto, who was executed in 1979 after being deposed in a military coup
Studied politics and government
Two-time prime minister
Left country in 1999 to avoid corruption charges
Eight years of self-imposed exile
Recent return was targeted by suicide bombing that killed more than 140 people
First woman to lead a modern Muslim nation
Hoped to lead pro-Western, democratic government against Islamic militants
Had talked with President Musharraf of a possible power-sharing deal
Brother Murtaza died in a gunbattle with police in Karachi in 1996
Youngest brother, Shahnawaz, died under mysterious circumstances in France a decade earlier
— from The Associated Press
Former Pakistani Prime Minister Benazir Bhutto's death at the hands of an assassin is a tragic event but not a completely unexpected one. Life for Pakistani politicians is fraught with danger, and has been since its founding. Read on.
The assassination of Benazir Bhutto, President Pervez Musharraf's most powerful opponent, has thrown Pakistan into chaos just 12 days before elections.
Bhutto died after gunfire and a suicide bomb attack targeted her at a campaign rally outside the Pakistani capital on Thursday. As news of her death spread, angry supporters poured onto streets in several cities, burning tires and vehicles. The violence killed at least nine people and plunged efforts to restore democracy to the nuclear-armed U.S. ally into turmoil.
Bhutto gave a political speech Thursday in Rawalpindi to thousands of supporters in her campaign for the Jan. 8 parliamentary elections. She was shot in the neck and chest as she stood in the sunroof of her vehicle to greet supporters while leaving the rally. A suicide bomber then blew himself up, killing 20 other people, witnesses said.
"Ms. Bhutto came back from a very comfortable life abroad. She came back to fight these forces of extremism," said a tearful and distraught Farah Ispahani, part of Bhutto's political team. "She came back for this country. She was a real daughter of the soil of Pakistan."
"I hope she's remembered as the greatest daughter this country has ever produced and the first woman prime minister ever elected in the Muslim world," Ispahani said through tears.
At the scene of the attack, the road was stained with blood and people screamed for ambulances. Others gave water to the wounded lying in the street, witnesses said.
Immediately after Bhutto was declared dead, supporters went on a rampage, attacking police and burning tires and election campaign posters in several cities. At the hospital where she died, some smashed glass and chanted slogans against her political rival, President Pervez Musharraf.
Musharraf, who announced three days of mourning, urged calm.
"I want to appeal to the nation to remain peaceful and exercise restraint," he said.
Nawaz Sharif, another former prime minister and leader of a rival opposition party, demanded Musharraf resign immediately and announced that his party would boycott the upcoming election, leading to speculation that the polls could be delayed or called off altogether.
Bhutto twice served as Pakistan's prime minister between 1988 and 1996.
A suicide bomb exploded at a Bhutto rally on Oct. 18, after she returned to Pakistan after eight years in exile. More than 140 people were killed in that attack. Since her homecoming, Bhutto frequently had acknowledged the danger she faced.
At Thursday's rally, she reiterated those concerns.
"I put my life in danger and came here because I feel this country is in danger. People are worried. We will bring the country out of this crisis," Bhutto said.
Following Thursday's attack, Bhutto's supporters at the hospital began chanting "Dog, Musharraf, dog," referring to her rival.
No one claimed responsibility for the assassination, but suspicion was likely to fall on resurgent Islamic militants linked to al-Qaida and the Taliban, who hated Bhutto for her close ties to the United States and support for the war on terrorism.
Rehman Malik, Bhutto's security adviser, said she was inside her vehicle at the time of the attack.
"Then I saw a thin, young man jumping toward her vehicle from the back and opening fire. Moments later, I saw her speeding vehicle going away," he said.
Bhutto was rushed to the hospital and taken into emergency surgery. She died about an hour after the attack.
President Bush offered his condolences to Bhutto's family and friends.
"We stand with the people of Pakistan in their struggle against the forces of terror and extremism. We urge them to honor Benazir Bhutto's memory by continuing with the democratic process for which she so bravely gave her life," he said.
For months, the United States has been encouraging Musharraf to reach some kind of political accommodation with his opponents, particularly Bhutto.
Musharraf convened an emergency meeting with his senior staff where they were expected to discuss whether to postpone the election, an official at the Interior Ministry said, speaking on condition of anonymity because of the sensitivity of the talks.
From NPR reports and The Associated Press
Bhutto: 'Real Daughter of the Soil of Pakistan'
Riots are breaking out on the grounds of the hospital where former Prime Minister Benazir Bhutto died Thursday after being shot by a gunman who then blew himself up, a member of Bhutto's team says. Bhutto had just finished a campaign rally in Rawalpindi.
A distraught Farah Ispahani, part of Bhutto's team, says Bhutto died in the operating room. It was unclear whether a gunshot or the explosion killed her.
"Ms. Bhutto came back from a very comfortable life abroad," Ispahani says. "She came back to fight these forces of extremism. She came back to try to bring Pakistan back to a secular democracy. People like myself left our homes and left our families and joined her. The army killed her father. Her brothers were assassinated, and yet she came back. She came back for this country. She was a real daughter of the soil of Pakistan."
On our blog, a sneak listen to an interview: "A blogger reports from the angry streets
Benazir Bhutto Under Police Guard When Killed
Benazir Bhutto Under Police Guard When Killed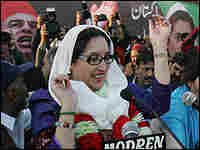 The former prime minister of Pakistan was killed at a campaign rally Thursday despite having a security detail.
"The details right now are very sketchy," Kamal Siddiqi, editor of the Karachi News International, reports. He says that in addition to a number of people having been killed, scores more were injured. "The main general hospital is now turning away patients who are coming in and redirecting them to other hospitals because their emergency ward is now full."
Bhutto appears to have completed her speech in a park in Rawalpindi, gotten into her car and was heading out of the park. She had a police escort.
"It was obvious that the security was not as tight or as good as it should have been," Siddiqi says. "If she was leaving, possibly the security people thought that the rally was over and they could relax. And that was the time when the attackers struck."
On our blog, an open thread: Bhutto killed: Feeling queasy?
Also, an audio slideshow from the attack.