Benazir Bhutto Under Police Guard When Killed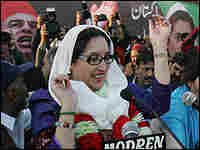 The former prime minister of Pakistan was killed at a campaign rally Thursday despite having a security detail.
"The details right now are very sketchy," Kamal Siddiqi, editor of the Karachi News International, reports. He says that in addition to a number of people having been killed, scores more were injured. "The main general hospital is now turning away patients who are coming in and redirecting them to other hospitals because their emergency ward is now full."
Bhutto appears to have completed her speech in a park in Rawalpindi, gotten into her car and was heading out of the park. She had a police escort.
"It was obvious that the security was not as tight or as good as it should have been," Siddiqi says. "If she was leaving, possibly the security people thought that the rally was over and they could relax. And that was the time when the attackers struck."
On our blog, an open thread: Bhutto killed: Feeling queasy?
Also, an audio slideshow from the attack.