The War That Was: Iraq in 2007
The War That Was: Iraq in 2007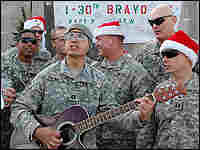 Staff Sgt. Curt Cashour/AFP/Getty Images
Sunday will mark the first anniversary of Saddam Hussein's execution. An increase in troops seems to have calmed the situation in Baghdad, and yet more soldiers died in 2007 than in any year since the Iraq war began in 2003. And the Iraqi government is still having trouble reaching its political goals.
Looking back at the year in Iraq, Washington Post's Josh Partlow says Saddam's legacy remains strong.
"People always use it as a frame of reference, to say, 'Well, in Saddam's time we had more electricity or the lines at the gas station were shorter' or 'In Saddam's time, we had less violence,'" he reports. Meanwhile, "some populations think their lives have improved quite a bit."
Partlow says the strategy brought in this year by Gen. David Petraeus, including the "surge" of 30,000 new troops, has brought focus to the U.S.-led coalition's military efforts.
"It's been a big impact," he says. "There's been a lot of problems, but there's definitely been a clearer vision this year, and that vision was to move these soldiers out into the cities and towns, off the large bases and into these small outposts."
The idea, he says, is to have the troops interact more with local Iraqis, and he says the change may be a factor in the recent decline of violence. Even so, suicide bombings continue in Iraq. At least 10 people were killed in one explosion in Baghdad on Friday. American casualties reached 3,900 this week.
"It's not a place where one would feel safe by any means," Partlow reports. "The violence against U.S. troops seems to have decreased more than against Iraqi civilians."
The year's most important development may be the emerging power of Sunni tribal groups, whose members are forming alliances with the coalition forces. More than 70,000 Sunnis, many of them former insurgents, have moved toward the American military, he says.
"It spread like wildfire," Partlow reports, "and it's popped up all over the country."
Iraqis, both Shiites and Sunnis, remain frustrated with the lack of progress by the Iraqi government. "It has resulted in, basically, paralysis," he says.