What's the Deal with Bilawal Bhutto Zardari?
What's the Deal with Bilawal Bhutto Zardari?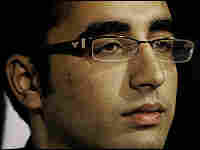 A Personal Take on Bilawal Bhutto Zardari
A friend of Benazir Bhutto's, who has known the young man since he was born, discusses what makes him tick. Politics and movies are on the list.Click here to read more.
Bilawal Bhutto Zardari, the 19-year-old son of the late Benazir Bhutto, has inherited the reins of her Pakistan Peoples Party.
News International editor Kamal Siddiqi reports from Karachi that the Oxford student is unlikely to be the party's replacement candidate. While Bilawal finishes his studies, his father, Asif Ali Zardari, will act as co-chairman. And if parliamentary elections in Pakistan proceed as planned next month, and the party wins a majority, neither man is expected to be tapped as prime minister.
Siddiqi says Bilawal Zardari, who also now goes by Bilawal Bhutto, has no political training aside from what he learned by being around his mother. Benazir Bhutto was one of Pakistan's most powerful and popular politicians, but Siddiqi says that's no substitute for time spent in charge.
"He's very young, he's very inexperienced and he's very untested," Siddiqi says.
Leaders of the Pakistan Peoples Party wanted an heir to the Bhutto political dynasty to take over the campaign, Siddiqi says.
"Bilawal is very young, and he needs someone to guide him," he says. "In effect, it is the daddy who is the de facto chief of the party. But to appease the people and the voters and the party workers, Bilawal's name has been announced as well at this stage."
Asif Ali Zardari has been a controversial figure, nicknamed "Mister 10 Percent" by people who believed he took kickbacks on government contracts. He spent eight years in jail on corruption charges that Siddiqi says were never proven.
Siddiqi says people in Pakistan remain inspired by the Bhutto name, giving Bilawal Zardari a bright future.
"In every decade, one Bhutto has been killed in the name of democracy," the editor says. "The Bhutto name, like the Kennedy name in the United States or the Gandhi name in India, that inspires a lot of people and that brings up a lot of feeling amongst people to vote for him."
On our blog, an open thread: Hey, 19! Want to run a country?