Bhutto's Son Spent Childhood Out of Public Eye
Bhutto's Son Spent Childhood Out of Public Eye
On Sunday, Benazir Bhutto's political party named her son, Bilawal Zardari, as its symbolic leader. Now 19, he has spent most of his childhood in exile in Dubai and London, far out of the public eye.
Independent journalist Victoria Schofield, who attended Oxford University with Benazir Bhutto, sheds some light on the young man, whom she has known since he was a baby.
"He is a very personable young man," she says. "He's just started at Oxford where he has really begun to enjoy himself."
His only political involvement thus far has been in the Oxford Union. And he doesn't speak Urdu, Pakistan's national language. Nonetheless, Schofield insists he is "as ready as he needs to be" to lead the Pakistan Peoples Party.
"I think he would do whatever he feels his mother wanted him to," she says. "He is an intelligent boy, and I feel he'll rise to the challenge."
Bilawal Zardari, who has said he will add Bhutto to his name, spent most of his time growing up far away from his father, Asif Ali Zardari. Bhutto's husband was named her successor in her will, but he decided to pass the leadership on to his son. Asif Ali Zardari will take a lead role in the party until his son is ready to take over, which may be when he graduates from the university.
Bhutto's husband has accused the Musharraf government of failing to protect his wife properly, saying this led to her death.
"(Bilawal Zardari's) relationship with his father, at the moment, is in a formative stage," Schofield says.
Like many teenagers, he enjoys watching films and hanging out with his friends, she says.
"He used to enjoy playing chess with my children," she says, adding that he always won.
Pakistan Commission Recommends Election Delay
Parliamentary elections in Pakistan looked headed for a delay of several weeks despite a call from supporters of slain opposition leader Benazir Bhutto and other politicians that they go ahead as originally scheduled on Jan. 8, officials said Monday.
A newly released video of Bhutto's assassination last week and an inconclusive medical report also raised doubts about the official explanation of her death.
The Election Commission said it had recommended an unspecified delay in the parliamentary polls following unrest triggered by Bhutto's assassination last week. It said its final decision would be made on Tuesday.
Bhutto's Pakistan Peoples Party wants the polls to go ahead quickly, perhaps sensing a likely sympathy vote in the aftermath of the assassinated leader's death and accusations that political allies of President Pervez Musharraf were behind the killing.
On Sunday, Bhutto's political party named her son, Bilawal Zardari, as its symbolic leader and left day-to-day control to her husband, extending Pakistan's most enduring political dynasty.
A senior government official predicted the elections would be postponed by "six weeks or so as the environment to hold free and fair elections is not conducive." The official spoke to The Associated Press on condition of anonymity.
Bhutto was killed in a suicide bomb and gun attack on Thursday, but disagreements between her supporters and the government over the precise cause of death are undermining confidence in Musharraf and adding to calls for international investigators to probe the killing.
Video of Bhutto's assassination, obtained recently by Britain's Channel 4 television, showed a man firing a pistol at Bhutto from just feet away as she greeted supporters through the sunroof of her armored vehicle. Her hair and shawl then moved upward and she fell into the vehicle just before an explosion — apparently detonated by a second man — rocked the car.
Bhutto's aides, including one who rushed her to the hospital, said they were certain she was shot. The two-time prime minister of Pakistan was buried Friday without an autopsy.
The video contradicts the version of the attack presented by the government shortly after her death. An official from Musharraf's government cited doctors at the hospital as saying she had been not been killed by gunfire, but when the force of the blast slammed her head into a lever on the vehicle's sunroof.
A copy of the medical report sent to reporters by a prominent lawyer and hospital board member, however, said the doctors had made no determination about whether she was shot.
It gave the cause of death as "open head injury with depressed skull fracture, leading to cardiopulmonary arrest."
The report, signed by seven doctors at the hospital, said that when Bhutto was brought in, she had no pulse and was not breathing. Blood trickled from a wound on the right side of her head and whitish material that appeared to be brain matter was visible. Her clothes were soaked with blood. The medical team worked for 41 minutes to try to resuscitate her before declaring her dead.
The report said her head wound was an irregular oval shape measuring about 2 inches by 1.2 inches. No surrounding wounds or blackening were seen. "No foreign body was felt in the wound. Wound was not further explored," it said.
"The wound might appear to be a bullet wound, but without an autopsy no doctor would ever be able to give a conclusive opinion that it was or it wasn't a bullet wound," prominent opposition lawyer Athar Minallah. "Without an autopsy there can be no investigation at all."
Minallah said the doctors had called for an autopsy to definitively determine the cause of death, but that Rawalpindi police chief Saud Aziz refused.
The appointment of Bhutto's husband, Asif Ali Zardari, as effective leader was not without complications. A former Cabinet minister who spent eight years in prison on corruption accusations, he is known as "Mr. 10 Percent" for allegedly taking kickbacks and is viewed with suspicion by many Pakistanis.
The British and U.S. governments had been pushing Bhutto, a moderate Muslim seen as friendly to the West, to form a power-sharing agreement with Musharraf after the election — a combination seen as the most effective in the fight against al-Qaida, which is believed to be regrouping in the country's lawless tribal areas.
From NPR reports and The Associated Press
What's the Deal with Bilawal Bhutto Zardari?
What's the Deal with Bilawal Bhutto Zardari?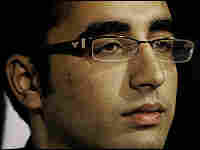 A Personal Take on Bilawal Bhutto Zardari
A friend of Benazir Bhutto's, who has known the young man since he was born, discusses what makes him tick. Politics and movies are on the list.Click here to read more.
Bilawal Bhutto Zardari, the 19-year-old son of the late Benazir Bhutto, has inherited the reins of her Pakistan Peoples Party.
News International editor Kamal Siddiqi reports from Karachi that the Oxford student is unlikely to be the party's replacement candidate. While Bilawal finishes his studies, his father, Asif Ali Zardari, will act as co-chairman. And if parliamentary elections in Pakistan proceed as planned next month, and the party wins a majority, neither man is expected to be tapped as prime minister.
Siddiqi says Bilawal Zardari, who also now goes by Bilawal Bhutto, has no political training aside from what he learned by being around his mother. Benazir Bhutto was one of Pakistan's most powerful and popular politicians, but Siddiqi says that's no substitute for time spent in charge.
"He's very young, he's very inexperienced and he's very untested," Siddiqi says.
Leaders of the Pakistan Peoples Party wanted an heir to the Bhutto political dynasty to take over the campaign, Siddiqi says.
"Bilawal is very young, and he needs someone to guide him," he says. "In effect, it is the daddy who is the de facto chief of the party. But to appease the people and the voters and the party workers, Bilawal's name has been announced as well at this stage."
Asif Ali Zardari has been a controversial figure, nicknamed "Mister 10 Percent" by people who believed he took kickbacks on government contracts. He spent eight years in jail on corruption charges that Siddiqi says were never proven.
Siddiqi says people in Pakistan remain inspired by the Bhutto name, giving Bilawal Zardari a bright future.
"In every decade, one Bhutto has been killed in the name of democracy," the editor says. "The Bhutto name, like the Kennedy name in the United States or the Gandhi name in India, that inspires a lot of people and that brings up a lot of feeling amongst people to vote for him."
On our blog, an open thread: Hey, 19! Want to run a country?