Remembering Remarkable Lives Lost in 2007
Every year, there are some obituaries that make front-page headlines. But there are many other obituaries — of people who led modest lives and made great impacts — that don't get the same publicity.
Talk of the Nation reached out to friends and colleagues at NPR and asked them to remind us of some of the remarkable lives lost in 2007. Here is a sampling of their responses:
Grace Paley, Author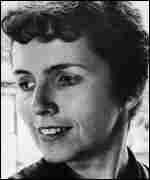 Remembrance by Dorothy Hickson, NPR Transcript Coordinator
Grace Paley gave me a hug once. My writing teacher introduced us at one of Grace's 92nd Street "Y" readings. Grace mentioned she was heading back to Thetford, Vt. and I blurted out, "That's where I was born!" She immediately enveloped me in a big, sweet hug. Later my mother said, "No, you were born in Burlington; we moved to Thetford when you were tiny."
Sorry, Grace! But I still treasure the hug. Grace wrote small, beautiful stories that captured the details of women's lives and connected them to humanity's great struggles. Decades spent fighting for justice never turned her cynical or hard. Her life and her art were seamless, her politics filled with love and humor. Grace made world peace feel downright pragmatic and achievable — if we just keep working at it.
Michael Shaheen, Justice Dept. Watchdog
Remembrance by Ari Shapiro, NPR Correspondent
Mike Shaheen and I met in the last year of his life. We became friends after I interviewed him for a story about a Justice Department investigation. He may have known then that our friendship could not last long. I didn't learn that he had cancer until he was too ill to take visitors. For 24 years, Mike was a Justice Department watchdog, running the Office of Professional Responsibility. He identified abuses by top Justice officials, in some cases taking on the FBI director and the attorney general directly. He expressed his independence even in retirement. Six months before he died, Mike told me he thought the office he had run for more than two decades should close and give its authority to the Inspector General. He said it pained him to take this position, but he believed the office had become ineffective, and Mike felt he had to speak out. It would have been unlike him to do otherwise.
Roger King, TV Executive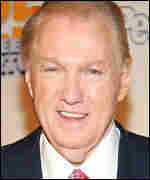 Remembrance by Andi Sporkin, NPR Vice President for Communications
If you love Oprah, play along with Wheel of Fortune or Jeopardy, crib recipes from Rachael Ray or just can't believe people share those problems with Dr. Phil, thank Roger King. Roger, who died Dec. 8, brought all those shows to life and created KingWorld, the most successful syndication company in television history. He was the ultimate salesman, happily chasing stations from Lima, Ohio, to Los Angeles, asking fees that were unheard-of for unknowns and long shots. And he nearly always got it. When CBS acquired KingWorld in 1999, his company had net profits of about $200 million, almost as much as CBS itself.
In an industry where bigger-than-life personalities are the norm, Roger also stood out as a showman. He was big, loud, opinionated and funny. He held job interviews at the Kentucky Derby and in casinos (where he could drop $250,000 in craps in 20 minutes and tip the croupier $10,000 as he walked away.) He rented New Orleans' SuperDome for a television industry party, flying in Elton John to perform — and to this day, TV executives who weren't invited still claim they were there. He won KingWorld's pricey Los Angeles headquarters in a poker game, or so he told me when I began working for him in 1999.
To succeed on Roger's team, you had to know your stuff, keep the ideas flowing and have the competitive fire. But you also had to have your priorities straight. In the middle of a frantic weekday with a crisis on my hands, I had to get his sign-off on a sensitive decision. I tracked him down by cell phone, laid out the dilemma and my solution. After he OK'd it, I asked what the odd ambient noise was behind him. "It's Meadowlands racetrack!" he bellowed back. Roger King loved the chase, and he loved the rewards that came from winning it. Roger had his priorities right.
Madeleine L'Engle, Author
Remembrance by Barrie Hardymon, Blogger, Producer, and occasional Editor, Talk of the Nation
Madeleine L'Engle, who died this past September at the age of 88, wrote so much, in so many genres, that she became one of those authors with whom I was able to age, happily. She wrote books in genres that are often sneered at — fantasy, young adult, science fiction — and made them challenging and readable. In fact, the genre in which they really belong, is simply literature. A Wrinkle in Time — her children's classic — is a very dense book, that asks complex philosophical questions, yet it's still a rollicking mystery filled with beautiful prose. I read it when I was 12 — I'm a sucker for a banned book — and A Wrinkle In Time is one of the most frequently banned books in the United States. The most important lesson she communicated to the legions of her young fans (and now older ones), is that thinking deeply, and asking questions, is profoundly moral, whether you get the answer or not. When the young heroine of A Wrinkle In Time, asks her mother whether everything has to have an explanation, her mother replies, "You see, Meg, just because we don't understand doesn't mean that the explanation doesn't exist." Madeleine L'Engle wrote books that made us think about whole cosmologies that might contain explanations — with hope, and compassion.
Carolyn Goodman, Civil Rights Advocate
Remembrance by Margot Adler, NPR Correspondent
Carolyn Goodman was a longtime activist from New York. Her son, Andrew, was one of the three civil rights workers brutally murdered during the Freedom Summer of 1964. Walking into Carolyn Goodman's Upper West Side apartment several years after the murders, the first thing that would hit you was a large oil painting on the wall. A woman being pulled roughly by two men — it radiated a sense of danger, violence and anxiety. Whenever I saw that picture, I thought of Carolyn Goodman the mother, torn apart by the murder of her son. But the actual Carolyn Goodman never showed that fear and anxiety in public. She appeared at events and causes, always radiating purpose, good humor and a belief in justice. In her later life, I would read about an award she had received or a campaign she was participating in, or even in one case getting arrested at the age of 83 protesting the death in a hail of police bullets of Amadou Diallo. That generation of Upper West Side New Yorkers that she was a part of — most of them are now dead or in their 90s. But so many of them believed that a life not spent improving the world was a life not worth living.
Joel Dorn, Music Producer
Remembrance by John Kruth, author of Bright Moments: The Life and Legacy of Rahsaan Roland Kirk
There's an old swing tune with a lyric that goes "Some cats know." Record producer Joel Dorn "knew" — profoundly. Back in the late 60s and early 70s I used to buy records on the Atlantic label by artists I'd never heard of, simply because his name appeared on the back of the jacket. His pedigree was flawless. The artists he steered and collaborated with included Roberta Flack, Max Roach, Herbie Mann, Les McCann and Eddie Harris, Bette Midler, Mose Allison, Rahsaan Roland Kirk, Yusef Lateef, Leon Redbone and the Neville Brothers to name a few. Dorn himself was just as singular as any of them and seriously funny — Larry David funny. Joel died of a heart attack on Monday, Dec. 17 in New York. He was 65. At the time of his death, Joel had just finished compiling a box set of Atlantic's greatest jazz sides for Rhino Records called Homage A Nesuhi, dedicated to his mentor, the late great Nesuhi Ertegun. Joel was a great mentor himself — to producers Hal Willner, Michael Cuscuna, his son Adam (AKA Mocean Worker) and myself as well, who he generously allowed to co-produce a couple of posthumous Rahsaan Roland Kirk discs. His passing is a great loss to American music and culture.
Momofuku Ando, Inventor of Instant Noodles
Remembrance by Amy Blaszyk, NPR Producer
If you live in a dormitory or consider the kitchen the enemy, Momofuku Ando is your best friend. Though you probably don't recognize the name, you'd know his creation. His nickname offers a clue: "Ramen King." Ando invented the world's first instant noodle. Just add hot water, and like magic, a steaming bowl of noodles. In the beginning, there was chicken. Then a flavor explosion, including beef, shrimp, vegetable and spicy chili. What started as a solution to food shortages in the aftermath of World War II, morphed into a product that's literally out of this world — it traveled with Japanese astronaut Soichi Noguchi on his 2005 mission aboard the U.S. Space Shuttle Discovery. Ando's company — Nissin — sold 46 billion packs last year, taking in more than $130 million in profits. Ando died Jan. 6, 2007. He was 96 — longevity he credited to playing golf and eating chicken ramen almost every day.
Emory Sekaquaptewa, Hopi Educator and Artist
Remembrance suggested by Ted Robbins, NPR Correspondent, written by Marina Giovannelli, NPR Producer
The language and culture of the Hopi Nation live on thanks to the work of Emory Sekaquaptewa. He served the Hopi Nation in myriad ways, most notably by compiling and publishing the Hopi language dictionary. He was an anthropologist, a judge, a Hopi educator and an artist during his rich life. The first Native American to attend West Point academy, Sekaquaptewa served as an Air Force officer for two years. Later, he worked with his brother to develop a technique for crafting silver overlay jewelry that is characteristic of Hopi tradition. Sekaquaptewa went on to receive a law degree from the University of Arizona, where he taught about Hopi culture for many years. Although his exact age is unknown, he is thought to have been 82 when he died.
Tom Terrell, Disc Jockey and Music Writer
Remembrance by Christopher Johnson, NPR Producer
Tom Terrell — promoter, journalist, and DJ — died on Nov. 29 after a long bout with prostate cancer. During the 1970s and 1980s, Terrell was one of the first in the U.S. music industry to pay attention to reggae and world music. An affable disc jockey and music writer, Terrell earned respect among peers and fans for discovering artists and breaking new sounds. The huge rent parties he threw in Washington, D.C., are legendary. Thomas Gerald Terrell was born July 16, 1950, in Summit, N.J. He moved to the District to attend college. Starting in 1975, he hosted a series of reggae and world music radio shows. Terrell also spun eclectic soul, jazz, and new wave mixes in the city's clubs. As a promoter, Terrell produced the first U.S. and West African shows by British reggae band Steel Pulse. His fluency in major music trends was reflected in Terrell's writing for Vibe, Jazz Times and The Village Voice. He was also a music commentator for National Public Radio. Last year, Terrell became the international music program director for XM Satellite Radio. Tom Terrell was 57 years old when he died at the Community Hospice of Washington.
Oliver Hill, Civil Rights Attorney
Remembrance by Juan Williams, NPR Senior Correspondent
Oliver Hill, the Richmond, Va., lawyer who died in August, was a charmer and a contradiction. His gentle, southern manner and easy drawl made him effective in both the courtroom, where his legal victories literally changed race relations in the Old Dominion, and in politics, where he became the first black person on the Richmond City Council since Reconstruction.
The contradiction emerged when Hill wanted to make a point. Even with his charming ways, Hill was a fighter, persistent and never intimidated. Segregationists thought he could be intimidated. They burned a cross on his lawn in 1955. But the bully tactics did not scare Hill. The Southern Gentleman had a tough soul and knew how to be a street fighter. Defying all intimidation, Hill broke a major barrier when he persisted in arguing that black teachers in Virginian be paid equally with white teachers. He won that case in 1940.
He lost to the segregationist political machine that dominated Virginia's Democratic politics when he ran for the Virginia House of Delegates in 1947. It was a campaign filled with racial smears intended to insure that whites knew that the light-skinned, educated man from Richmond was black and would be the first black person in the General Assembly since 1889. Hill did not quit. He organized black voters in Richmond and won a seat on the Richmond City Council the very next year. In 1950 it was the tall, soft-spoken Hill who represented students in Farmville, Va., challenging school segregation. Working with another tall, Howard University Law School graduate, Spottswood Robinson, Hill took on the case which targeted as an absurdity the idea of separate but equal education. In court it was the smiling, friendly Hill who devastated racially separate schools as a fraud that left black children in tattered, cold classrooms with few books, labs or athletic facilities.
Hill and Robinson then joined with yet another Howard Law School graduate, Thurgood Marshall — later a Supreme Court Justice — to take the case to the U.S. Supreme Court and win it as part of the landmark Brown decision that ended legal school segregation in the U.S. But that was just one of the many cases that Hill quietly handled and consistently won to change the reality of race relations in Virginia. In 1999, President Clinton awarded him the Presidential Medal of Freedom. And the Virginia Supreme Court of Appeals named its building in his honor.
Hill and Marshall were fighters even before they had their law degrees. As the two top students at Howard Law, they could not agree on the terms for a class picture. Hill and Marshall belonged to different fraternities and each wanted their frat to arrange the photo. No deal was reached and no picture was taken. Instead the two arranged a party. "Thurgood and I decided that we would have a pre-graduation celebration and in the lingo of that day, we went to a 'nip joint ' and 'booted up a few.'" Even then Hill was not one to lose an argument and always a gentleman.
Edwin Traisman, Food Researcher, Cheez Whiz Creator
Remembrance by Scott Horsley, NPR Correspondent
When it comes to edible innovation, Ed Traisman was a whiz. Traisman, who died June 5 at the age of 91, led the processed cheese group at Kraft in the 1950s. They developed one of the iconic products of the decade: a spreadable concoction called Cheez Whiz. That alone would have cemented Traisman's reputation as a pioneer in 20th century American cuisine. But he was just getting started.
"If he'd stayed at Kraft, I think he probably would have moved up the ladder very, very far," says Mike Pariza, who later worked with Traisman at the University of Wisconsin's Food Research Institute. "But he told me the story of driving by this restaurant every day and seeing all these cars in front. So he stopped and walked in and saw somebody sweeping the floor."
The restaurant was an early McDonald's. And the fellow sweeping the floor was the chain's founder, Ray Kroc. Traisman left his job at Kraft and opened the first McDonald's franchise in Madison, Wisc., in 1957. A few years later, Kroc tapped Traisman's food science expertise to help tackle a vexing problem: how to freeze french fries without sacrificing their famous taste or texture. Traisman figured out that part of the secret was removing the moisture from the potatoes before freezing. He got a patent on the process in 1962.
"It was significant in that it allowed a revolutionary product to go on the market. And it still maintained that quality flavor," says company historian Mike Bullington, keeper of the McDonald's "golden archives."