Teddy Thompson, Lovely Troubadour
British singer-songwriter Teddy Thompson was country when — and where — country wasn't cool.
ALISON STEWART, host:
Teddy Thompson has quite a pedigree.
His parents are folk singers Richard and Linda Thompson. But if he's feeling any pressure or in the shadow of his legendary family, you wouldn't know it from his performance on the BPP.
Teddy showed up at our studios a couple of months back to play some songs from his new country record, "Up Front and Down Low," and it quickly became a BPP staff favorite.
(Soundbite of song "Down Low")
Mr. TEDDY THOMPSON (Singer): (Singing) Love, I've been thinking of you and the things I used to do and the trouble I made. Love, you'd be better off dead and a bullet in your head then to come back to me. Keep it on down low, don't tell everybody you know I love you more than I should. I'm only a man, and my pride makes demands to only ever lead me to sorrow. Good luck, I'll go break the habits I should while I still got time. Find someone who cares for you and himself while I still got time.
STEWART: Teddy Thompson, performing in our studios.
THE BRYANT PARK PROJECT blog is lovely, feisty and frequently visited by Ron Paul supporters. We'll have the best of the blog - including that infamous Sigur Ros interview - and the author of the "Hot Zone," a year spent in chronicling wars around the globe. It's all coming up on THE BRYANT PARK PROJECT from NPR News.
NPR transcripts are created on a rush deadline by Verb8tm, Inc., an NPR contractor, and produced using a proprietary transcription process developed with NPR. This text may not be in its final form and may be updated or revised in the future. Accuracy and availability may vary. The authoritative record of NPR's programming is the audio record.
Teddy Thompson Plays Live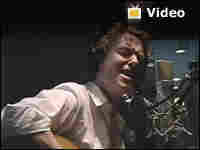 Singer/songwriter Teddy Thompson comes from good stock. He's the son of folk giants Richard and Linda Thompson.
On his recently released album Up Front and Down Low, the younger Thompson ditches the British folk pop for American torch and twan.
"I'm from the backwoods of London," he jokes. "I actually grew up on country music, which may seem strange, but that's what was playing in my house when I was a kid, and that's what I love."
Thompson joins us in the Bryant Park studios for a cover of George Jones' "She Thinks I Still Care" and an original song, "Down Low."