Musicians in Paradise: Hawaii Hosts Teen Talent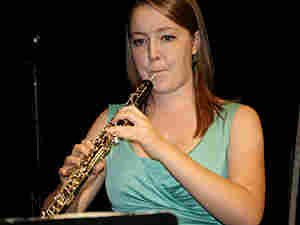 This week, from the Hawaii Theater in Honolulu, a teenage pianist from Honolulu plays Prokofiev, the Hawaii Youth Opera Chorus sings a Chinese folk song, and a young tuba player who's gone to extremes in his orchestra while awaiting his next entrance, plays Schumann.
Melissa Hooper, 18, instinctively knew she wanted to play the oboe before she had ever seen or heard one.
"I just knew I had to play it," she says. Hooper joined her school band and started taking oboe lessons, and then, when she attended her first orchestra concert, she experienced something almost surreal. As she listened to the music, she heard a voice. "I thought maybe it was a voice telling me that playing the oboe was definitely what I needed to be doing. It was a touching moment." Afterward, though, Hooper found out the voice she heard was actually just the conductor yelling something at the orchestra. Nevertheless, Melissa loved playing the oboe from the very beginning and has never looked back. Hooper plays "Concert Solo" by Stanislas Verroust.
Sixteen-year-old Irwin Jiang has always loved the piano, but he used to be a real slacker when it came to practicing.
"I liked to use to my practice time to catch up on reading or watch my favorite television shows," he explains. "Sometimes I'd even play a video game while I practiced." His parents went to great lengths to try to get him to buckle down. "They'd put tape recorders on the piano or they'd call me to make sure I was practicing," he says.
Jiang recalls that things changed when his teacher had him apply for an international piano competition. "I never expected to get in, but I did, and when I saw how high the level of skill was at that competition, I realized I wanted to work harder to get to that level." Jiang plays the Toccata, op. 11 by Sergei Prokofiev.
When people from the mainland find out violinist Asia Doike is from Hawaii they usually ask her if she surfs and dances hula.
"I like to have a little fun and tell them I also live in a grass shack and paddle my canoe to school every day," she laughs. Truth be told, Doike does indeed dance hula, as of recently anyway. "My mom started taking lessons and encouraged me to give it a try, so I've been taking hula for around a year," she says. Doike also has been taking lessons in Okinawan dance since the age of eight.
As for the violin, Doike began taking lessons when she was six years old due to the encouragement of her aunt, who is a violin teacher. She excelled quickly and is now the concertmaster of the Hawaii Youth Symphony.
Doike is a recipient of the Jack Kent Cooke Young Artist Award. She will receive an award of $10, 000 to help her continue her music studies and assist with her music-related needs. She plays the opening movement from Mozart's Violin Sonata, K. 304.
Sometimes tuba players have to wait so long before they play in a piece of music, they can be tempted to goof off during band rehearsal. Ibanda Ruhumbika is no stranger to that temptation.
"I'll realize I don't have to play something for 100 measures, and it's kind of hard just waiting around doing nothing," he says. Ruhumbika has spent the lag time reading, listening to music, playing pranks on his fellow tubaists, or just falling asleep. Once, during rehearsal, when he realized he had about seven minutes before his part came in, he ran out and bought cinnamon rolls for the entire the low brass section. "We ate them and still made it in time for our entrance!" he laughs.
Ruhumbika is a senior in high school and is facing the question that so many other teenage musicians struggle with — whether or not to pursue a life in music. "I've wanted to be a doctor since I was around three years old," he says, "but I've become so involved with music that even if it kills me I'm going to try to do both!" He plays music (originally for French horn) from Robert Schumann's Adagio and Allegro, op. 70.
The Hawaii Youth Opera Chorus is Hawaii's largest and oldest community youth choir. Some 200 kids sing in nine different ensembles and have the opportunity to study keyboard, theory and hula. The ensemble also hosts choral festivals such as the Pacific Rim Children's Choral Festival, which brings kids together from the mainland and Canada to work on music of the Pacific region. The group's leader, Nola Nahulu, is one of Hawaii's most prominent choral directors and has been with the Youth Opera Chorus for more than 20 years.
Most of the 17 young women — 14 to 18 years old — who make up the group's elite touring ensemble, have literally grown up together because they came to the choral organization as children.
"It's truly breathtaking how we've all bonded together like family," says 16-year-old Sienna Achong. "We're like sisters," adds 18-year-old Kanoe Tjorvapjoglou. "We just love to hang out with each other." The chorus performs a Chinese folk song, "Tai Yang Chu Lai La," accompanied by Wendy Chang, piano, and a Hawaiian song that celebrates the endangered birds of Hawaii, "E Nana kakou I na manu" by Herb Mahelona, accompanied by Wendy Chang and Piccolo player Annie Kwok.
This program originally aired on January 9, 2008.