Last-Minute Decisions for Milford, N.H., Voters
Milford, At a Glance
Population: 14,862

Median age: 35.1 years (U.S.: 35.3 years)

Median household income: $52,343 (U.S.: $41,994)

Registered voters: 10,191

Democrats: 21%

Republicans: 31%

Undeclared (or independent): 48%

Source: Census Bureau, New Hampshire Employment Security, Town of Milford

Earlier Stories from Milford
Last March, when we first visited Milford, N.H., to gauge residents' attitudes about the upcoming primary, the presidential race was far from people's minds. Now, on the verge of Tuesday's balloting, the number of undecided voters has shrunk dramatically.
Milford is a lot like New Hampshire: It traditionally votes Republican, but it also has a lot of independent voters and lots of new arrivals, who are turning the red state more blue.
Local officials are hoping for a record turnout in the southern New Hampshire town. Town clerk Peggy Langell said she's hoping the town doesn't run out of ballots. People can register in New Hampshire on the day of the primary — and officials are getting lots of calls from folks who want to do just that. Nearly 50 percent of Milford voters are undeclared or independent.
Some of the residents who have been interviewed over the past year discussed their outlook for the primary at a local cafe on Sunday.
Noreen O'Connell, chairwoman of the Milford Board of Selectmen, is an independent — or "painfully independent," as she puts it.
A few months ago, she was undecided. She has made up her mind, planning to vote for an underdog, Democrat Bill Richardson.
"He is a diplomat. He has balanced a budget, and as a selectman, I know how hard that is," she says. "He might not be as flamboyant, but I think he's a Steady Eddie."
Her husband Tim, a Republican state representative, is backing Republican John McCain. He says McCain speaks straight, takes difficult stands and has shown the ability to work on both sides of the Senate aisle.
But Tim O'Connell says he's not as enthusiastic a McCain supporter as he was eight years ago, when McCain won the New Hampshire primary, and it's because of one thing: McCain's support for the Iraq war, which Tim says he strongly opposed.
"I sometimes get the feeling that Sen. McCain might be a little trigger-happy," he says.
Gail and Jack Ruonala, Republican retirees, settled on a candidate just a few days ago, but not wholeheartedly.
"Well, sort of Romney," Gail Ruonala says.
Jack Ruonala says he "wouldn't vote for any of them with a great deal of enthusiasm." None of the candidates "gives you the feeling that this is the guy or gal that's going to really do things for the country which are really going to be beneficial," he says.
Gail says she's looking for a person who has strong international credentials.
Asked to remember the last time she was excited about a candidate, she says, "Well, this goes back a long, long way, but how about Eisenhower?"
You do hear considerably more excitement about the Democratic field.
Steve and Cammie Opre are strong supporters of John Edwards. She is a Democrat. He was a Republican for 20 years but switched to independent last month.
"It's great to be able to look at a field of candidates and see a number of them that if any of those people became president I think the country would be in good shape," Steve Opre says. "It's not just bad choice or worse choice."
Cammie Opre says she did go back and look more carefully at Barack Obama after his win in Iowa last week.
People at her church "feel he's great but he is young," she says. "The older people, my parents' generation are all like, 'Ooh, a little young.' They just can't feel comfortable with him."
"What was interesting, I did my own informal poll at church," she says. "Everyone was voting for Richardson. I couldn't believe it. This is what people are missing about New Hampshire: If you give us a choice of A or B, we pick C. If you give us A, B or C, we pick D. Don't tell us we only have two choices, you know. You can't tell us that."
Milford library director Michelle Sampson lost her top choice. She was backing Democrat Joe Biden, who left the race after a dismal finish in Iowa.
"I was really disappointed," she says. "I was a Biden girl. I loved Joe Biden and, hopefully, perhaps he'll make a wonderful secretary of state now that he's dropped out."
So she went to a forum on Friday to hear the other Democrats, and she became a convert to Obama.
"I was completely and utterly blown away by hearing him speak," she says. "You know, I called my mom at home in Pennsylvania right after and I said I have one word for you ... Kennedy. I mean, I had goose bumps. Politicians don't give me goose bumps."
Karin Lagro, an independent, set up a spreadsheet to compare all the candidates on both sides. Now, she's made her choice:
"I've actually made a decision just this week, and it's sort of surprising me. I'm going to vote for [Hillary] Clinton. I really, really wanted to like Barack Obama, but one of my concerns is that I think we're at a time where foreign policy is going to be an enormous issue — and I think that his lack of experience shows there."
Steve O'Keefe, a Republican who works for Fidelity Investments, has changed his mind several times. He was 100 percent for Mitt Romney, then flirted with Mike Huckabee. Now he says he's 95 percent sure he'll vote for Romney. O'Keefe likes Romney's leadership experience with the Olympics, likes his business sense and thinks he'll continue what Republicans are known for: cutting taxes and providing "some sort of kick to this economy" amid concerns of a recession.
"I think Mitt Romney is ready to do that based off his business background," O'Keefe says. "You know, somebody could just really impress me over the next day. Maybe John McCain's going to knock on my door ... But to be honest with you, right now it's definitely for Mitt."
Diner Serves Up Photo Ops, Food to Candidates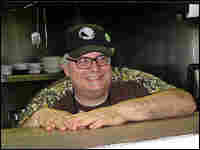 If you go to Milford, N.H., and feel brave, you just might order the Milford Cow Pie at the River House Café, a cozy diner perched above the Souhegan River right in the center of town. You'll end up feasting on a burger settled on a pile of mashed potatoes, topped with cheese, onion rings and lots of gravy - $6.95 for the works.
But a presidential candidate rolling through Milford — and looking for a perfect small-town photo op — might order more judiciously. After all, who wants to face that inevitable cow pie headline?
In Howard Dean's case, he went for the blueberry pancakes. The cook at the River House Café, Charles Burke, told me that Heidi, the weekend waitress, offered Dean maple syrup from New Hampshire.
"But he was only interested in it if it were from Vermont. So that kinda told us that Mr. Dean may not do as well as what he had hoped," Burke said.
The café does have a copy of a photograph of Dean sitting in the restaurant and smiling, but it is nowhere on display. Burke had to reach up to a high shelf in the sweltering kitchen and paw through a stack of clutter before he found it to show us.
Burke told me that George W. Bush was good company when he stopped in during the 2000 campaign.
"Mr. Bush was absolutely hilarious," Burke said. "And if anybody ever wanted to go to a party, you'd take him because he's really an amusing individual. You know, people do have their likes and dislikes based on him, but from what we saw, he was a lot of fun. We enjoyed him."
There used to be a sticker marking the corner stool where Bush sat, but patrons pulled it off.
"We've replaced it a few times, because that's where he sat. And people continue to take it off, and that's the way it is," Burke said.
A few seats down, there is a sticker on a stool that reads "GORE SET HERE." No one has bothered taking that one off. Burke said he doesn't think anyone really notices it.
Here's the story about the day Al Gore came to town. In January 2000, Gore's entourage came into the café about 15 minutes ahead of the then-vice president and politely informed them that Mr. Gore would be having the lamb.
Trouble is, the River House Café doesn't serve lamb. It's a diner. You want a tuna melt? They'll make you a dandy tuna melt. You want split pea soup? You'll love the split pea soup.
But if you're the vice president, you order something that isn't on the menu. And you send the café staff running to a nearby Greek restaurant to lay in a supply of lamb — which they did.
Now, I'm not saying there is a connection. But that November, Al Gore lost the Milford vote to George W. Bush.