N.H. Youth Get Out the Vote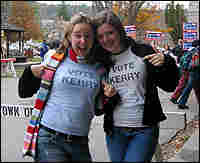 The presidential candidates are courting the youth vote in New Hampshire. Meanwhile, young people there are trying to get their peers to the polls.
Tyler Frisbee, a Dartmouth College senior, is president of the nonpartisan student group Vote Clamantis. Frisbee will spend the day enticing fellow students to the polls, knocking on doors and offering rides. "Students know what's going on," she says. "I think it's actually going to be not as big a challenge as you might think. I think kids are really excited to have the chance to make an impact, and they're really ready to go out there."
New Hampshire allows voters to register on the day of the election. "Having that last-minute option is a big help," Frisbee says.
On our blog, we'll be posting regular updates from Frisbee today.