Bush Aims to Reignite Israel-Palestinian Peace Talks
Bush Aims to Reignite Israel-Palestinian Peace Talks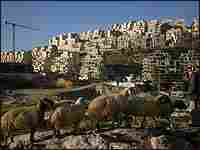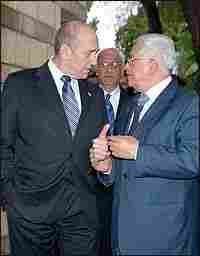 President Bush leaves for a weeklong trip to the Middle East on Tuesday evening — a trip that will include his first visit as president to Israel and the Palestinian territories.
Bush will try to reinvigorate peace talks that were recently revived at a U.S.-hosted conference in Annapolis, Md., in November. The talks quickly bogged down amid new violence and disputes over expansion of Jewish settlements in parts of Jerusalem and the occupied West Bank.
The political momentum coming out of the Annapolis peace conference stalled in large part over new construction in Har Homa in south Jerusalem.
Disputes over Har Homa
Billboard ads in the town picture a windmill, flowers and a woman in a colorful Dutch outfit encouraging people to buy into "the Dutch Village, with a view of the hills!" Another sign offers "new Euro-view apartments."
In fact, the view is of Bethlehem in the occupied West Bank. And what Israeli officials call expansion of a neighborhood of a united Jerusalem, the Palestinians call an illegal settlement.
Har Homa is built on land that Israel captured and annexed after the 1967 war, an annexation the Palestinians and much of the international community view as illegal.
Construction in Har Homa today is booming. Just one week after the Annapolis conference restarted long-stalled peace talks, the Israeli housing ministry announced tenders to build more than 300 additional housing units here. The move enraged Palestinians.
"They are poking me in the eye, they are ridiculing me in front of Palestinian people. If they think they can have settlements and peace, forget it!" says Saeb Erekat, a senior Palestinian peace negotiator and senior adviser to President Mahmoud Abbas.
Erekat and Palestinian leaders see the expansion of Har Homa as part of an Israeli effort to cut off formerly Arab East Jerusalem from the West Bank and undermine plans to make East Jerusalem the capital of a future Palestinian state.
Settlements, Security Could Impact Peace Talks
In 1997, the start of construction of Jewish homes in Har Homa contributed to a violent collapse in peace talks. Erekat warns that ongoing construction in East Jerusalem and expansion of West Bank settlements could, once again, undermine negotiations.
"Just the total petty politics consideration of Israel: tender in Har Homa, tender in Male Adumin. And they say, 'No we've decided already, we have dictated on these Palestinians.' So we are pre-empting the results of negotiations before they begin and determining the fate of Jerusalem by adding all these settlement blocks to us," Erekat says.
Israeli Prime Minister Ehud Olmert last week announced what many saw as a de facto order to halt new construction. But Olmert did not block the plans to build the additional homes in Har Homa.
Settlements are hardly the only issue dragging down peace talks: Near-daily mortar and kassam rocket fire from the Gaza Strip into southern Israel continue to prompt deadly Israeli army operations into the territory, now controlled by Hamas. Last week, a longer-range 122-millimeter Katuysha rocket fired from Gaza hit north Ashkelon, injuring no one but deeply unnerving Israelis. The 10 miles the Katyusa traveled is the deepest Gaza rocket strike into Israel so far.
And security problems continue to plague the West Bank — the only area the Abbas-led Palestinian Authority now controls after losing Gaza to Hamas. Two West Bank settlers were recently gunned down while on a hike near Hebron. The attackers, two Palestinian males, were employed by the Palestinian Authority.
Olmert's spokesman Mark Regev says Israel "cannot allow a security vacuum" in the West Bank.
It's in this context of mistrust, division and violence that President Bush arrives to try to get peace talks back on track. Hebrew University political scientist Reuven Hazan says that it's a tragedy the president waited until his final year in office to get directly involved in the peace process.
"A president has to decide that he really wants to deal with the conflict. But presidents who come here late in office, who've lost both houses of Congress — I'll use an American saying: too little too late," Hazan says.
Olmert and Abbas met for two hours Tuesday in Jerusalem on the eve of Bush's visit. A spokesman for Olmert said the two agreed to get the fledgling talks going again with "direct and ongoing negotiations on all the big core issues."
The two leaders made a similar pledge more than six weeks ago in Annapolis.