Behind the Clinton and McCain Comebacks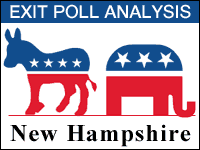 Primer on the N.H. Primary
N.H. residents can register and vote on primary day.
Independent voters make up the single largest voting block of the N.H. electorate: 370,118 out of 827,701 voters.
Roughly 30 percent of N.H.'s eligible voters participated in the 2004 primary.
Independents can also vote in either the Democratic or Republican primary, whereas in Iowa, caucus goers can only participate if they're registered with a party.
Arizona Sen. John McCain largely owes his New Hampshire GOP primary win to the support of independent voters, moderate Republicans and New Hampshire residents dissatisfied with President Bush, according to exit polls.
New York Sen. Hillary Clinton received her New Hampshire boost from women, a group Clinton has long courted but who went, narrowly, for Illinois Sen. Barack Obama in the Iowa caucuses.
Preliminary exit polls also suggest this New Hampshire primary broke previous statewide voter turnout records, with roughly 500,000 New Hampshire residents flocking to the polls— that's 48 percent of the voting age population in the state.
Former Massachusetts Gov. Mitt Romney, who came in second in the GOP primary, received the support of conservatives and voters who approved of President Bush.
Obama overwhelmingly held a lead among independents and first-time voters, although the number of first-time primary goers was up only slightly from 2004. Obama also won the youth vote: the 18 percent of the New Hampshire electorate under 30, while Clinton won among voters age 45 and older.
Former Arkansas Gov. Mike Huckabee, the GOP winner in Iowa, won the white evangelical vote: 18 percent of the New Hampshire Republican voters.
Among the issues strongly affecting the mindset of New Hampshire primary voters, the economy topped the list for both Republicans and Democrats. Only 14 percent of New Hampshire Democrats and 21 percent of the state's Republicans said they felt like they were "getting ahead" financially.
The Iraq war, healthcare, immigration and terrorism followed closely behind the economy as the top issues in voters' minds.
Republicans listed Iraq, immigration and terrorism as the top three issues. Those most worried about the war and terrorism supported McCain, while voters worried about immigration went with Romney.
Clinton outperformed Obama with poor, less-educated voters, while Obama won among affluent primary voters.
In the ever-present Democratic debate between "change" versus "experience," Obama won amongst those who sought reform. But among the 19 percent of voters who listed experience as their top priority, Clinton held the lead.