Female Voters Reflect on Clinton's Win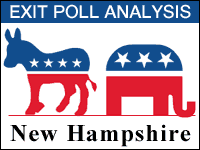 Female voters in New Hampshire overwhelmingly supported New York Sen. Hillary Clinton, propelling her to victory in Tuesday's Democratic primary there.
In the small town of Jaffrey, which has just one polling place, women watching the election returns reflected on why they cast votes for the former first lady.
Many said they voted for Clinton because they wanted a female president. Others liked her political experience and the tenacity she showed in Saturday night's New Hampshire Democratic debate, when her chief rivals, former North Carolina Sen. John Edwards and Illinois Sen. Barack Obama, attacked her.
Some women admitted they were touched by Clinton's display of vulnerability at a local cafe, when a voter asked her how she remained so upbeat and Clinton's eyes, in turn, became misty.
"When I saw the tear-up replayed on the news, it looked like Clinton was truly moved. It proved she had soul," said Carol Brownwood.
In all of New Hampshire, women voted for Clinton by a margin of 13 percentage points over Obama, according to exit polls.
In Iowa, female caucus-goers favored Illinois Sen. Barack Obama by 5 percentage points.
Both Clinton and Obama have heavily courted female voters — a coveted group much the way soccer moms and college-age students have been in the past.
And female voters are starting to latch on to the idea of Clinton's run as a historic one.
"I have to vote for Hillary. Women in this country are never recognized for what they accomplished or what they say," said retired Episcopal priest Anne Webb, who was undecided until three days before the primary.
But the desire for change could trump female voters' support for a fellow woman. Brigit Johansen is a New Hampshire farmer who raises grass-fed beef. Originally, she supported Clinton but switched to Obama because she says he allows you "to dare to hope."
Clinton, McCain Look Ahead to Next Round
How They Won
Hillary Clinton and John McCain are New Hampshire's comeback kids, remaking their stalled presidential campaigns and blunting the momentum of opponents as they head into fresh contests in Michigan and South Carolina.
"I felt like we all spoke from our hearts and I am so gratified that you responded," Clinton told cheering supporters outpacing Sen. Barack Obama in the first-in-the nation primary. "Now together, let's give America the kind of comeback that New Hampshire has just given me."
New Hampshire's record turnout also revived the White House hopes of Republican John McCain, seven months after his campaign had seemed to be down for the count.
"Tonight, we sure showed them what a comeback looks like," a grinning McCain told supporters as they chanted, "Mac is back!"
With 98 percent of the precincts counted, Clinton was winning 39 percent to 36 percent for Obama. Former Sen. John Edwards of North Carolina trailed with 17 percent. New Mexico Gov. Bill Richardson was fourth, polling less than 5 percent.
On the Republican side, McCain had 37 percent, former Massachusetts Gov. Mitt Romney 32 percent, former Arkansas Gov. Mike Huckabee 11 percent, former New York Mayor Rudy Giuliani 9 percent and Texas Rep. Ron Paul 8 percent. Former Tennessee Sen. Fred Thompson got 1 percent.
The victories for McCain and Clinton raised the prospect of a drawn-out nomination battle between two history-making candidates: Clinton, who would be the first woman to hold the presidency, and Obama, who would be the first president of African-American descent.
"I am still fired up and ready to go," a defeated Obama told his backers. "We know the battle ahead will be long. But always remember that, no matter what obstacles stand in our way, nothing can stand in the way of the power of millions of voices calling for change."
For all the candidates going the distance, that means new focus on Michigan (Jan. 15), South Carolina (Republicans, Jan. 19; Democrats Jan. 26), Nevada (Jan. 19) and Florida (Jan. 29). Two dozen states vote on Super Tuesday, Feb. 5.
New Hampshire was a bitter blow for Romney, who spent millions of dollars of his own money in hopes of winning the kickoff Iowa caucuses and the first primary - and finished second in both. Huckabee, who won the leadoff Iowa GOP caucuses last week, was running third in New Hampshire.
After Iowa, Clinton and her aides seemed resigned to a second straight setback. But polling place interviews showed that female voters — who deserted her last week — returned to her column in New Hampshire. She also was winning handily among registered Democrats. Obama led her by an even larger margin among independents, but his campaign was less successful in turning out young voters than it had been in Iowa.
Word of Clinton's unexpected triumph set off a raucous celebration among her supporters at a hotel in Manchester — gathered there to celebrate a New Hampshire primary every bit as surprising as the one 16 years ago that allowed a young Bill Clinton to proclaim himself "the comeback kid."
Her performance came as a surprise even to her own inner circle. Officials said her aides were considering whether to effectively concede the next two contests — caucuses in Nevada on Jan. 19 and the South Carolina primary a week later — and instead try to regroup in time for a 22-state round of Democratic contests on Feb. 5.
There have also been rumors that a campaign shake-up was in the works, with longtime Clinton confidante Maggie Williams poised to come aboard to help sharpen the former first lady's message.
Obama drew huge crowds as he swept into the state after winning Iowa. Confident of victory, he stuck to his pledge to deliver "change we can believe in," while the former first lady was forced to retool her appeal to voters on the run. She lessened her emphasis on experience, and sought instead to raise questions about Obama's ability to bring about the change he promised.
The grind took a toll on both of them.
Obama suffered from a sore throat, while Clinton's voice quavered at one point when asked how she coped with the rigors of the campaign. That unexpected moment of emotion became the talk of the final 24 hours of the campaign.
The Republican race turns next to Michigan, where McCain and Romney already are advertising on television, and where both men planned appearances on Wednesday. Huckabee also was expected to campaign in the state.
From NPR reports and The Associated Press