Female Clinton Supporters in N.H. Relish Her Win
Hillary Clinton defied expectations in winning a close victory over Barack Obama in the New Hampshire primary Tuesday. A group of women in New Hampshire who decided to vote for Clinton talk about what motivated their choice to back the only female candidate running for president.
Melissa Block also talks with Marianne Pernold Young, who posed the question to Clinton on Monday that made her a bit teary — and that some observers say turned the New York senator's fortunes.
Female Voters Reflect on Clinton's Win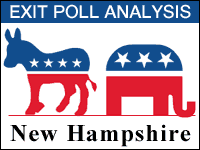 Female voters in New Hampshire overwhelmingly supported New York Sen. Hillary Clinton, propelling her to victory in Tuesday's Democratic primary there.
In the small town of Jaffrey, which has just one polling place, women watching the election returns reflected on why they cast votes for the former first lady.
Many said they voted for Clinton because they wanted a female president. Others liked her political experience and the tenacity she showed in Saturday night's New Hampshire Democratic debate, when her chief rivals, former North Carolina Sen. John Edwards and Illinois Sen. Barack Obama, attacked her.
Some women admitted they were touched by Clinton's display of vulnerability at a local cafe, when a voter asked her how she remained so upbeat and Clinton's eyes, in turn, became misty.
"When I saw the tear-up replayed on the news, it looked like Clinton was truly moved. It proved she had soul," said Carol Brownwood.
In all of New Hampshire, women voted for Clinton by a margin of 13 percentage points over Obama, according to exit polls.
In Iowa, female caucus-goers favored Illinois Sen. Barack Obama by 5 percentage points.
Both Clinton and Obama have heavily courted female voters — a coveted group much the way soccer moms and college-age students have been in the past.
And female voters are starting to latch on to the idea of Clinton's run as a historic one.
"I have to vote for Hillary. Women in this country are never recognized for what they accomplished or what they say," said retired Episcopal priest Anne Webb, who was undecided until three days before the primary.
But the desire for change could trump female voters' support for a fellow woman. Brigit Johansen is a New Hampshire farmer who raises grass-fed beef. Originally, she supported Clinton but switched to Obama because she says he allows you "to dare to hope."