Mich., S.C., Pose Different Challenges for Romney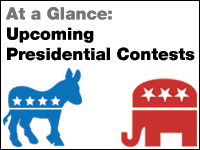 After second-place finishes in Iowa and New Hampshire, former Massachusetts Gov. Mitt Romney has struggled to get himself in front of the pack of Republican presidential candidates.
While Romney's family ties could help him in the upcoming primary in Michigan — where his father was governor — South Carolina's contest poses real challenges to a Northern Republican trying to appeal to the party's Southern base.