Key Voices Weigh In on Homeland Security Dept.
When the Department of Homeland Security was created five years ago, it took on the nearly impossible job of merging hundreds of thousands of federal employees in two dozen agencies, while also trying to protect America from a terrorist attack. Homeland security experts agree that DHS has faced a tough battle from the beginning, and they have a variety of suggestions on how to make the agency run better. Here, key voices in the debate over how to make the country safer weigh in on DHS' performance so far.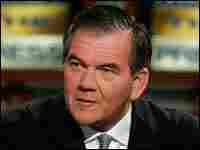 Former Homeland Security Secretary Tom Ridge: The first head of Homeland Security, Ridge is now a consultant. He remembers that it was especially difficult to build a new agency, while also worrying about another terrorist attack. The department's color-coded alert system was raised several times during his tenure, when the administration thought the possibility of attack was especially great. Ridge says part of the problem was trying to merge so many different agencies, because they had their own long histories and cultures.
Former DHS head Tom Ridge describes the difficulties in merging two dozens agencies into one new department.
Department of Homeland Security Secretary Michael Chertoff: Chertoff took the reins of the agency in 2005. He worries that, as time passes beyond the terrorist attacks of Sept. 11, 2001, Americans will begin to resist security measures that might be inconvenient. Chertoff says it's difficult to get the American public to understand what the department has achieved, because success usually means that something bad has not happened. Chertoff says the department can't guarantee perfect security, but that it can reduce the risk of an attack by making it more difficult for a terrorist to enter the United States.
DHS Secretary Michael Chertoff says the goal isn't perfect security but rather, limiting the risk of attack.
Chertoff describes concerns about growing resistance to the department's anti-terrorism efforts as time passes.
Elaine Kamarck of Harvard's Kennedy School: Kamarck thinks the Homeland Security Department is too large and that it was an almost-impossible job to pull together so many disparate agencies, especially because many of them — such as the Immigration and Naturalization Service — already had their own funding and morale problems. Kamarck, who worked in the Clinton White House, thinks the department should focus on securing the border, and that the Federal Emergency Management Agency should be made an independent agency once again. She says Homeland Security also needs to do more to fill top jobs and attract good leadership.
Elaine Kamarck describes the challenges facing DHS early on.
Frank Cilluffo, former White House aide on homeland security issues: Cilluffo, who now heads George Washington University's Homeland Security Policy Institute, says that the Bush administration's proposal to merge two dozen agencies into a new Homeland Security Department arose from necessity. There was a belief inside the White House that the government had to be more unified, but he notes that the plan was hatched by a very small group of White House insiders. According to Cilluffo, the creation of the department was very ambitious; no one would expect such a huge merger in the private sector to succeed in less than five years.
Frank Cilluffo describes the difficulties of creating such a huge department like DHS.
Stephen Flynn, senior fellow, Council on Foreign Relations: Flynn thinks the department hasn't done enough to make sure that the country is prepared to recover from another attack. He thinks the quicker the recovery, the less damage a terrorist can inflict, and that might even discourage a would-be attacker. Flynn says the department might have been made too large when it was created, but that the worst thing that could be done now is to try to break it apart. Flynn, along with other security experts, worries that Americans are becoming too complacent, forgetting that the country could be attacked again. He says the next administration needs to make homeland security a top priority.
Stephen Flynn warns against reorganizing the department.
Former Homeland Security Inspector General Clark Kent Ervin: Ervin thinks the department has failed in a number of ways and attributes many of the agency's problems to a lack of money. He notes that congressional investigators were recently able to breach airport security and bring explosives past screening checkpoints undetected. There were similar problems when he went to work as the agency's inspector general in 2003. Ervin also thinks the department should do more to check cargo on passenger airplanes and in containers from overseas.
Clark Kent Ervin describes a glaring gap in DHS efforts: securing cargo on passenger aircraft.