President Bush Seeks Closer Persian Gulf Ties
President Bush Seeks Closer Persian Gulf Ties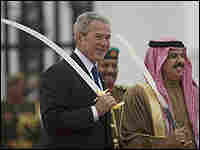 President George W. Bush is shifting the focus of his Middle East tour from the Arab-Israeli conflict to the Iraq War as he travels to Persian Gulf countries.
Speaking at a U.S. military base in Kuwait on Saturday, the president said that the additional U.S. troops sent to Iraq over the past year have produced results, and "hope is returning" to Iraq.
Bush then traveled to Bahrain, a tiny but strategic gulf nation that hosts the U.S. Navy's 5th Fleet. He is the first U.S. president to visit the country, and the goal is to cultivate close ties.
Greeted by men in long robes performing a traditional sword dance, Bush told the crowd, "I am really honored to be the first U.S. sitting president to have visited your country. Perhaps I should say, it's about time."
Over the next few days, the president will also visit the United Arab Emirates and Saudi Arabia. He is expected to be greeted by the rulers of these countries as a friend and ally because of the decades-long military protection the United States has offered them from their powerful neighbors, Iran and Iraq.
But the gulf Arab states are worried about rising tensions between the United States and Iran, which they fear could destabilize a region that's benefiting from record high oil prices.
With reporting by NPR's Ivan Watson.