Republican Campaigns Heat Up in Michigan
Republican Campaigns Heat Up in Michigan
Democrats aren't contesting Michigan's primary on Tuesday; the national party punished the state for moving up the date of the primary and says its delegates won't be seated. But it's a different story on the Republican side. Bill Ballenger, publisher of Inside Michigan Politics, speaks to NPR's Scott Simon from the campaign trail in Flint.
SCOTT SIMON, host:
The first two rounds of the election season are over, and this much is known. Time will tell. And time now marches on as the electoral battle spreads across the country.
Next up: Michigan on Tuesday. The Democrats aren't contesting this one. The National Party punished the state for moving up the date of the primary and says that its delegates won't be seated. But it's certainly a different story on the Republican side.
We're joined by Bill Ballenger, publisher of Inside Michigan Politics, who's on the campaign trail in Flint this morning.
Thanks for being with us, Mr. Ballenger.
Mr. BILL BALLENGER (Publisher, Inside Michigan Politics): My pleasure, Scott.
SIMON: And it's been a few days now since attention has been paid to Michigan, where Republicans have been making appearances. What are they going for? Who are they appealing to?
Mr. BALLENGER: Well, they're appealing on the Republican side to some kind of a evangelical Christian right base as they were, to a certain extent, obviously in Iowa are so-called Christian right here is probably half or a third the size of Iowa. So thereby, no means the entire constituency that Republican candidates want to get votes from there is kind of a more moderate electorate here in Michigan than there is in both Iowa and New Hampshire, and we're obviously way more spread out geographically. This is the biggest state in land mass east of the Mississippi.
SIMON: Mm-hmm. And according to polls, what's on the minds of Republican voters there in Michigan?
Mr. BALLENGER: The economy, the economy, the economy. It's dismal here in Michigan, and it has been for half a dozen years. We've never really emerged from the 2000, 2001 recession.
SIMON: Of course, this is being seen as a particular test for Mitt Romney. He grew up in the state. His father, George Romney, was the governor. His mother ran for senator. He was, after all, governor of Massachusetts. Is this really is home state?
Mr. BALLENGER: It's hard to say that it is. Obviously, his father was governor almost 40 years ago. A lot of people joke that the people in Michigan who remember his father probably all in Arizona now, if they're still alive. He's got the Romney name, which is certainly a better name than any other candidate running right now, with the possible exception of John McCain, who won the state in a big upset over George W. Bush just eight years ago. So he has said that, you know, he plan to make it the third leg on his troika of wins at the beginning of the process - Iowa, New Hampshire and Michigan. And of course, he's lost Iowa and New Hampshire, so he just about has to win Michigan or, I think, he may be cooked.
SIMON: You, of course, mentioned Senator McCain's victory there in the 2000 primary. Is the political landscape still favorable to him?
Mr. BALLENGER: I think it is. In fact, polls taken in the last few days in the wake of New Hampshire show him with leads anywhere from seven to 11 points. In Michigan, you can cross over and vote in the Republican primary if you're an independent or a Democrat. We do not register to vote by party here in Michigan, so anybody can go into the Republican Party if it wants to next Tuesday and vote.
And John McCain got the lion share by far back in 2000 against George W. Bush of those voters, and the expectation is he will get those voters again this time compared with Mitt Romney and Mike Huckabee, who's also making a big play here in Michigan.
SIMON: So in theory, Democrats who want to play the game can walk into the poll and vote Republican.
Mr. BALLENGER: Absolutely. In fact, because the Democratic contest is virtually meaningless, with only really Hillary Clinton on the ballot as a major candidate, there's a lot of speculation that if you're a Democrat and you want to participate, the only game in town is a Republican primary.
SIMON: Bill Ballenger, publisher of Inside Michigan Politics, thanks very much.
Mr. BALLENGER: Thank you, Scott.
NPR transcripts are created on a rush deadline by Verb8tm, Inc., an NPR contractor, and produced using a proprietary transcription process developed with NPR. This text may not be in its final form and may be updated or revised in the future. Accuracy and availability may vary. The authoritative record of NPR's programming is the audio record.
What's at Stake in the Michigan Primary?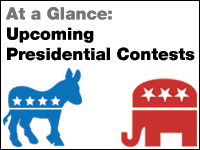 Did You Know?
Michigan voters can cross party lines to participate in the primary of their choice. University of Michigan political science professor Vincent Hutchings says this could help GOP hopeful Sen. John McCain (AZ), particularly if a large number of independents and registered Democrats support him as they did in 2000 — a good prospect, given that the Democrats are not holding a full-fledged primary.

Even though Republicans are targeting the state's primary, Michigan has voted for a Democratic president in the last four general elections.
Here's a guide to what's at stake for the candidates in Michigan's presidential primaries Jan. 15, and the issues that will be on voters' minds.
REPUBLICAN PRIMARY
Candidates: Ex-Mayor Rudolph Giuliani (NY), Ex-Gov. Mike Huckabee (AR), Rep. Duncan Hunter (CA), Sen. John McCain (AZ), Rep. Ron Paul (TX), Ex-Gov. Mitt Romney (MA), Ex-Sen. Fred Thompson (TN)
What's at Stake: Romney and McCain are pinning their presidential hopes on Michigan, where both have strong ties. Romney grew up there; his father also served as the state's governor in the 1960s. McCain won the primary there in 2000.
Both candidates must do well in Michigan. McCain needs to prove his campaign is bigger than the New Hampshire primary. Romney needs to prove he's still viable, having placed second in Iowa and New Hampshire.
But polls show Huckabee is also a contender. Repeating his strategy in Iowa, he is hoping to appeal to the state's Christian conservatives. Huckabee is trying to woo them with a message of economic populism, in addition to his religious values.
Romney is now focusing his campaign exclusively on Michigan, running ads and spending his time there. His new ads focus on what he calls "Michigan values," as well as his ties to the state. The McCain campaign has joked that anyone who remembers Romney's father as governor has probably moved to Arizona by now.
Thompson has been focusing on the Jan. 19 Republican primary in South Carolina, where he hopes to win back some of the support he has recently ceded to Huckabee. Giuliani has been spending his time campaigning in Florida — whose Jan. 29 primary has become the focal point of his campaign, as his standing in national polls has plummeted from first to third.
The Issues: Michigan's unemployment rate is higher than the nation's — 7.5 percent compared with the national average of 5 percent, according to U.S. Department of Labor figures from December. The economy is a major issue for Michigan voters — the state's auto industry continues to shrink.
In his campaign stops there, McCain has promised to create a job-retraining program centered around community colleges, to replace existing federal programs that he says do not work. Romney has suggested that, as a businessman, he has the know-how to revive jobs in that hard-hit state. And Huckabee is running ads in Michigan that use the line he tried in New Hampshire: Voters want a president who reminds them of a co-worker, not the guy who laid them off.
DEMOCRATIC PRIMARY
Candidates: Sen. Hillary Clinton (NY), Ex-Sen. Mike Gravel (AK), Rep. Dennis Kucinich (OH)
What's at Stake: The state Democratic Party's effort to move up the primary date was a complete bust. It resulted in sanctions from the Democratic National Committee and warnings to the candidates not to campaign there. Clinton is the only front-runner candidate on the ballot, so coming in first could prove meaningless. Major contenders for the Democratic nomination have not been campaigning there.
With reporting from NPR Staff and the Associated Press