What's at Stake in the Michigan Primary?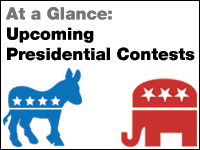 Did You Know?
Michigan voters can cross party lines to participate in the primary of their choice. University of Michigan political science professor Vincent Hutchings says this could help GOP hopeful Sen. John McCain (AZ), particularly if a large number of independents and registered Democrats support him as they did in 2000 — a good prospect, given that the Democrats are not holding a full-fledged primary.

Even though Republicans are targeting the state's primary, Michigan has voted for a Democratic president in the last four general elections.
Here's a guide to what's at stake for the candidates in Michigan's presidential primaries Jan. 15, and the issues that will be on voters' minds.
REPUBLICAN PRIMARY
Candidates: Ex-Mayor Rudolph Giuliani (NY), Ex-Gov. Mike Huckabee (AR), Rep. Duncan Hunter (CA), Sen. John McCain (AZ), Rep. Ron Paul (TX), Ex-Gov. Mitt Romney (MA), Ex-Sen. Fred Thompson (TN)
What's at Stake: Romney and McCain are pinning their presidential hopes on Michigan, where both have strong ties. Romney grew up there; his father also served as the state's governor in the 1960s. McCain won the primary there in 2000.
Both candidates must do well in Michigan. McCain needs to prove his campaign is bigger than the New Hampshire primary. Romney needs to prove he's still viable, having placed second in Iowa and New Hampshire.
But polls show Huckabee is also a contender. Repeating his strategy in Iowa, he is hoping to appeal to the state's Christian conservatives. Huckabee is trying to woo them with a message of economic populism, in addition to his religious values.
Romney is now focusing his campaign exclusively on Michigan, running ads and spending his time there. His new ads focus on what he calls "Michigan values," as well as his ties to the state. The McCain campaign has joked that anyone who remembers Romney's father as governor has probably moved to Arizona by now.
Thompson has been focusing on the Jan. 19 Republican primary in South Carolina, where he hopes to win back some of the support he has recently ceded to Huckabee. Giuliani has been spending his time campaigning in Florida — whose Jan. 29 primary has become the focal point of his campaign, as his standing in national polls has plummeted from first to third.
The Issues: Michigan's unemployment rate is higher than the nation's — 7.5 percent compared with the national average of 5 percent, according to U.S. Department of Labor figures from December. The economy is a major issue for Michigan voters — the state's auto industry continues to shrink.
In his campaign stops there, McCain has promised to create a job-retraining program centered around community colleges, to replace existing federal programs that he says do not work. Romney has suggested that, as a businessman, he has the know-how to revive jobs in that hard-hit state. And Huckabee is running ads in Michigan that use the line he tried in New Hampshire: Voters want a president who reminds them of a co-worker, not the guy who laid them off.
DEMOCRATIC PRIMARY
Candidates: Sen. Hillary Clinton (NY), Ex-Sen. Mike Gravel (AK), Rep. Dennis Kucinich (OH)
What's at Stake: The state Democratic Party's effort to move up the primary date was a complete bust. It resulted in sanctions from the Democratic National Committee and warnings to the candidates not to campaign there. Clinton is the only front-runner candidate on the ballot, so coming in first could prove meaningless. Major contenders for the Democratic nomination have not been campaigning there.
With reporting from NPR Staff and the Associated Press
Romney Touts Roots in Appeal to Michigan Voters
Struggling to keep his presidential bid afloat after two second-place finishes, Republican Mitt Romney touted his Michigan roots to the state's electorate and promised to do more to lift up the economically hard-hit state than rival John McCain.
Whether that will be enough for voters will be disclosed Tuesday when voters cast primary ballots.
Romney also suggested another rival, Mike Huckabee, was the wrong type of Republican for the nomination.
"If I'm president of the United States, I will not rest until Michigan is back, and I will bring it back with your help. Together, we'll do it," Romney said on Sunday during a boisterous rally at Lawrence Technical University.
Michigan's economy has been reeling from the U.S. auto industry's downturn. The state has the nation's highest unemployment rate at 7.4 percent.
Romney has promised to promote a revitalized transportation sector with research dollars, better trade deals, negotiated fuel-efficiency standards and a tax-free savings plan for people making $200,000 or less.
"I'm going to fight for every single good job. We're going to rebuild this industry. We're going to make Michigan strong and a leader again in the world," he said at Lawrence Tech.
Romney traveled with his wife, Ann, who also was born in Michigan, and talked about meeting her in the basement of Cindy White's house in Birmingham. He recalled his summer vacations on Torch Lake, and days ago visited the Statehouse to pose beneath the portrait of his late father, George, a three-term governor, in the Capitol rotunda.
He made known his familiarity with the Michigan way of life too.
"Of course, people speak with no accent, and they know that 'pop' refers to a drink, not a relative, and, of course, Vernors is the best ginger ale in the world."
Polls show Romney tied with McCain, according to the Detroit News, while the Detroit Free Press puts Romney about 5 percentage points ahead of McCain.
Earlier in the day, Romney dismissed any suggestion he would leave the race if he did not win Michigan.
"We're going all the way through Feb. 5. No ifs, ands or buts about it," he said on CBS's Face the Nation. "This is a race that is not going to be decided by a few states. It's a race that I'm taking to the nation."
He also questioned the viability of Huckabee, the Iowa caucus-winner, citing the former Arkansas governor's record on taxes, illegal immigration and prison commutations.
"This is not the kind of Republican that you'd expect to go to the White House," Romney said. "This is not the kind of Republican that I think people expect as somebody who is going to lead our party."
From NPR reports and The Associated Press