Assessing King's Stance on Vietnam War
Assessing King's Stance on Vietnam War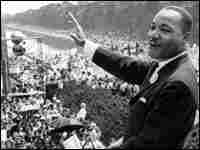 On April 4, 1967, Dr. Martin Luther King Jr., denounced the war in Vietnam.
He did so knowing that he was alienating then-President Lyndon Johnson, a powerful ally of the Civil Rights Movement.
So, how did King's nonviolent principles clash with the civil rights agenda?
For more, Farai Chideya talks with Clayborne Carson, professor of history at Stanford University. He also directs the Martin Luther King Jr. Research and Education Institute.