NASA Probe Glimpses Unseen Side of Mercury
NASA Probe Glimpses Unseen Side of Mercury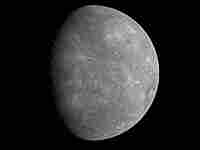 NASA/Johns Hopkins University Applied Physics Laboratory/Carnegie Institution of Washington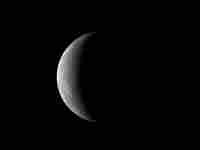 NASA/Johns Hopkins University Applied Physics Laboratory/Carnegie Institution of Washington
NASA's Messenger spacecraft blazed past the planet Mercury on Monday during the first of a series of rendezvous.
Planetary flybys are usually pretty big deals; some amazing robotic spacecraft spins past an exotic world and gives us dazzling new views.
The Messenger mission, though, tests our patience a little bit. The spacecraft was operating on autopilot as it approached Mercury, and it was recording images but not sending them back right away.
Sean Solomon, from the Carnegie Institution of Washington, is the lead scientist on the project.
In a conference room, looking through a wall of glass into the Messenger mission-control center, Solomon described his fascination with the parched and moon-like planet, which is a sister of Earth.
"We have four siblings that all had a similar birthing process four and a half billion years ago. Of course, we live on one of them," Solomon says. "And to the extent that we claim to be shepherds of our own planet, it is incumbent on us to understand how our planet works, how it came to be. What are the processes that give rise to the phenomena we see today?"
Rob Gold, from the Johns Hopkins Applied Physics Laboratory, was also watching outside the mission-control center.
"I'm not too nervous today," he said. "I'm actually glowing because we're finally going to see what Mercury looks like."
Mariner 10, the last spacecraft to visit Mercury, imaged only about 40 percent of the planet, he said. Messenger will eventually take pictures of the rest of Mercury. In addition, Messenger will use this lap around Mercury to help put the spacecraft on a trajectory to help it return to orbit around the planet permanently by 2011.
Messenger's approach this week, only 124 miles above Mercury's surface, was much closer than any previous encounter. It was a tricky maneuver, and it didn't help that during its approach Messenger had to lose radio contact with mission control while it flew behind the planet.
Journalists, scientists and even mission-control operators milled about, waiting for the faint dial tone that would tell them Messenger had made it safely.
Finally, a voice over the speaker announced that the team received its expected signal, and the news was greeted with a round of applause from the operators in mission control. That signal means a giant antenna in California heard Messenger's dial tone, systems engineer Michael Paul said, and the spacecraft was amazingly on target.
On Tuesday, NASA retrieved data from Messenger that confirmed the probe captured about 1,200 images of Mercury. These are expected to be transmitted back to Earth late Tuesday. Then, over the coming week, scientists will have hundreds of brand new vistas of Mercury to relish.