Romney Seeks Momentum in South Carolina
Stephen Morton/Getty Images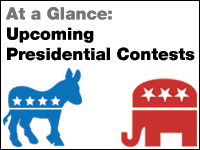 Republican presidential candidate Mitt Romney, who won the primary in Michigan on Tuesday, faces a far tougher challenge this weekend, at Saturday's primary in South Carolina.
The former Massachusetts governor is among the candidates turning their attention to the Palmetto State, where the GOP race is wide open.
He is stressing a message of economic optimism.
"I think there's a general perspective in this country that we just can't compete with China ... that manufacturing here is going to go away, and that perhaps other jobs will go away as well. I reject that idea," Romney tells Robert Siegel.
"I think the transformation and change that you're seeing in technology suggests that if we lead that change, that we may be able to develop products of the future that can rekindle the kind of strength that we've seen in these industries before."
Increasing Research and Development Investment
Romney says that as a nation, the United States is going to have to start investing in energy technologies, fuel technologies, materials science and other basic areas that will help the country rid itself of dependency on foreign oil — in the same way that it has historically invested in the space program and health care.
That kind of investment "offers the opportunity for technology-sharing that may well lead to great products for the home and for, if you will, the garage," Romney says.
He advocates increasing federal investments in energy, materials science, automotive technology and fuel technology from $4 billion a year — its current level — to $20 billion a year, over time.
To pay for these investments, Romney says he will "dramatically" reduce the amount of discretionary nonmilitary funds. He would cap that at inflation less 1 percent, which he says would result in a 10-year savings of approximately $300 billion — "plenty of money to fund the increase from $4 billion to $20 billion that I'm speaking about."
Plenty of Room for Spending Cuts
Additionally, Romney says he sees other areas ripe for cost-cutting, such as job-training programs administered by different agencies and departments that duplicate efforts. He also says he is in favor of setting up accounts for people who are laid off and letting them use the accounts to pay for community college or on-the-job training programs.
Romney also says he would tackle entitlements, which are "gobbling up a larger and larger portion of our federal spending."
"It's time for us not just to talk about that and to say it's a problem, but actually to propose solutions, and I've done that," he says.
Optimism for Campaign's Future
As for his prospects in South Carolina — which he says is a must-win state for his opponent John McCain — Romney predicts that he will do better than expected.
"We're here to campaign, get our share of some delegates and keep on going," he says.
"We've got a lot of states ahead of us. There have been four states so far: I've won two (Wyoming and Michigan); I've come in second in the other two (Iowa and New Hampshire). No one's come close to me in terms of the total number of Republican votes I've received with the total number of delegates I've gotten. So, if I can keep this up, that'll be good news," Romney says.