Democrats Woo Labor, Minorities in Nevada
Analysis
Record turnout is expected for Saturday's Democratic caucuses in Nevada, where candidates are hoping to show their clout in the party's first western nominating contest and the first state contest with a significant minority population.
Four years ago, fewer than 10,000 Democrats showed up — about 2 percent of those who were eligible. So this year, Democrats Barack Obama, Hillary Clinton and John Edwards know they are vying for a lot of first-time caucus-goers.
Political scientist David Damore of the University of Nevada, Las Vegas, said coming after those votes in Nevada is not easy because the state does not have a tradition of intense political involvement.
"It's a transient place," Damore said. "The iconic places in Las Vegas are full of a bunch of tourists. You're not going to spend your time there."
He said Democratic politicians have developed a formula: visit a union hall, walk through a neighborhood and hold a rally in a high school gym.
Desert Pines High School was the setting for Clinton's rally on Tuesday in a working-class neighborhood of Las Vegas.
"There are still a lot of people in the state who aren't quite sure what the caucus is," she told the crowd. "So, you've got to get out and talk to as many people as possible: your friends, your family, your neighbors. And come to those caucuses on Saturday morning."
Candidates have also been busy courting organized labor, which plays a larger role in Nevada than in either of the two previous contests in Iowa and New Hampshire.
The state's biggest union, representing casino employees, has already endorsed Obama, triggering a court-fight over casino caucus sites. But there is no guarantee rank-and-file members will go along with that recommendation. Carla Jackson, a maid at the MGM Grand casino, is a precinct captain for Clinton.
"She won my support every day," Jackson said. "Ever since Bill [Clinton] was in there, I had them on my side."
Obama, meanwhile, is attracting some of the same kind of crossover support that helped him win in Iowa. Greg Wood showed up at an Obama town hall meeting in the town of Henderson.
"I thought it was very good. I'm a Republican and I came in thinking I needed to vote for John McCain but I think I've changed my mind," he said.
Former North Carolina Sen. Edwards also hopes to make a strong showing in Nevada, where one newspaper poll shows a tight, three-way race. Edwards stuck to another part of Damore's formula on Wednesday night, speaking at the headquarters of the carpenters' union in Las Vegas.
"I am so proud to be in this union hall and to stand with the men and women of organized labor who helped build the middle class in this country and who are going to help reestablish the middle class in America when I'm president of the United States," he said to cheers.
Nevada's caucuses will also be an early test of Latino voting power, in a state that's one-quarter Hispanic. Latino leader Ruben Kihuen, a member of the state Legislature, was heavily courted by all the Democrats. He ultimately endorsed Clinton but said the close contest with Obama and Edwards has been healthy.
"Regardless of who ends up getting the nomination, this is all good for the party," he said. "There are people being energized who have never been energized before."
There are now slightly more Democrats registered to vote in Nevada than there are Republicans. The party hopes that will turn this Republican red state to the Democratic blue column in November.
What's at Stake in the Nevada Caucuses?
Ethan Miller/Getty Images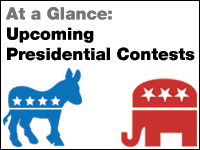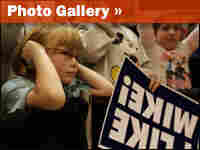 Did You Know?
• Nevada is the first primary or caucus state with a sizable number of Hispanic voters.

• Only caucus-goers registered with a party can participate. Absentee ballots are not accepted. Nevada's caucuses will begin Saturday morning and are expected to last several hours.

• Nine hotels and casinos have been designated as Democratic caucus sites, in a move aimed at making it easier for casino workers to participate. The state Democratic Party let the culinary workers' union, which has endorsed Illinois Sen. Barack Obama, choose the sites. But that decision has been challenged in court by the state teacher's union, which argues that the sites unfairly favor Obama.
Nevada is the first Western state to hold caucuses for both parties, but Saturday's event has become more of a Democratic affair. Sens. Barack Obama (IL) and Hillary Clinton (NY) compete in the Silver State having each won a victory in an early voting contest. They, as well as former Sen. John Edwards (NC), are looking for a win in Nevada to give them a boost going into South Carolina and Super Tuesday.
Though Nevada Republicans are also caucusing that day, the GOP presidential candidates have largely chosen to focus their efforts in South Carolina, whose same-day primary has long been seen as determinative in the race for the Republican nomination.
Here's a guide to what's at stake for the candidates in Nevada's Jan. 19 caucuses, and the issues that will be on voters' minds.
DEMOCRATS
Candidates: Sen. Hillary Clinton (NY); former Sen. John Edwards (NC); former Sen. Mike Gravel (AK); Rep. Dennis Kucinich (OH); Sen. Barack Obama (IL)
What's at Stake: Clinton had a double-digit lead in the polls back in December, but Nevada's largest union of culinary workers (which has roughly 60,000 members) has endorsed Obama. A recent poll of 500 Democratic and Republican voters, sponsored by the Reno Gazette-Journal shows Clinton, Edwards and Obama in a statistical dead heat: Obama with 32 percent, Clinton with 30 percent and Edwards with 27 percent.
All of the candidates will fight over the Hispanic vote. Latinos make up 25 percent of the state's population, although only half of them can vote due to age or immigration status. The withdrawal of Gov. Bill Richardson (NM) from the race has only increased the remaining Democrats' efforts to woo Spanish-speaking voters. Nevada has hosted two Democratic debates, one in November and one on Jan. 15.
The Issues: As with most states, the Iraq war, immigration and the economy are major issues in Nevada. As a Western state, water, environmental and energy rights also come into play. Nevada has not been as hard-hit as other early-voting states, such as Michigan and South Carolina, in terms of unemployment — the booming casino businesses employs many residents — but it does have the highest rate of home foreclosures in the country.
REPUBLICANS
Candidates: Former Mayor Rudolph Giuliani (NY); former Gov. Mike Huckabee (AR); Rep. Duncan Hunter (CA); Sen. John McCain (AZ); Rep. Ron Paul (TX); former Gov. Mitt Romney (MA); former Sen. Fred Thompson (TN)
What's at Stake: Unlike the Democrats, the Republican candidates have never expended much effort in the state. A poll sponsored by the Reno-Gazette Journal shows the GOP candidates locked in a close contest.