Obama Takes Swipe at Clinton's Economic Plan
Obama Takes Swipe at Clinton's Economic Plan
Robyn Beck/AFP/Getty Images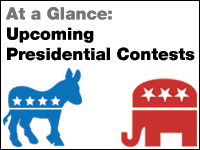 Presidential candidate Sen. Barack Obama (D-IL) is not concerned about the "technical definition" of a recession. Nor is he scrambling to pay for proposals to jumpstart the economy. He just knows that people across the country are struggling, and his mix of tax cuts and direct spending – not the plan of rival Sen. Hillary Clinton (D-NY) – will give the economy a fast-acting fix, he says.
"People have been hurting, and they've been hurting for some time, even before the downturn caused by the subprime lending crisis," Obama tells Melissa Block. "There's no doubt that things have gotten a little bit worse over the last several months."
Clinton's $70 billion plan includes emergency housing and heating assistance. Obama said it relies too much on spending proposals. In a recent press release, Clinton said Congress should also "stand ready" to provide an additional $40 billion in tax rebates.
Obama says his plan emphasizes tax relief. His $75 billion package would provide an immediate $250 tax cut per worker, his campaign said in a recent press release. He also calls for a temporary $250 increase in Social Security checks.
"I think speed is of the essence if you want a stimulus plan," Obama says.
For example, the Social Security supplement could be easily and quickly delivered to seniors, who could then buy prescription drugs.
"That is, I think, the kind of opportunity that's going to get money into pockets of Americans quicker and is more likely to boost the economy quicker," Obama says.
And how will he pay for the proposal?
He doesn't plan to.
"As [Federal Reserve] Chairman Bernanke planned to testify today, right now it is more important to jumpstart the economy," Obama says. "We will lose so much federal revenue if we plunge into a severe recession that, from a perspective of a one-time temporary boost, it's important for us to just get the money out."
Bureaucrat-in-Chief?
In recent comments to the Reno Gazette-Journal, Obama said voters do not want an "operating officer." Instead, he told the paper, his job would be to set a vision of where the bureaucracy needs to go.
Clinton responded to Obama's comments by saying the country does need a CEO – someone to focus on the nitty-gritty details — in the White House.
"She obviously wasn't paying attention to what I said," Obama tells NPR. Obama says he would be involved in the details if elected president.
"This is a broader theme that I think Sen. Clinton has been trying to project, that somehow there's a brisk efficiency to her potential presidency that would be lacking in mine," Obama says.
Perceived Weakness
Obama takes another jab at his rivals when asked about a response he gave to a question at a recent Democratic debate.
At a debate in Nevada, Obama was asked about his weaknesses. He confessed that his greatest weakness is a lack of organization — a messy desk and office. At the debate, Obama answered the question first, followed by Clinton and former Sen. John Edwards (D-NC).
"I think Sen. Edwards said he was too passionate about helping poor people, and Sen. Clinton said she was too impatient to move the country forward," Obama tells NPR. "I was trying to answer the question 'What's your greatest weakness?' as opposed to 'What's your greatest strength disguised as a weakness?'"
"I should have said I like to help old ladies across the street," he says.
But Obama says he would not want to redo his response.
"I think one of the hallmarks of our campaign is that I actually answer questions honestly and try not to engage in too much spin," he says.
Concerns for Safety
Obama's wife, Michelle, recently said that some, including those in the African-American community, have focused on "what might go wrong" as her husband pursues the presidency. The comments have been interpreted as allusions to threats to Obama's safety.
Obama says that he feels confident in his ability move the campaign forward and "assuage some of the concerns that people have."
"I think that for obvious historical reasons, there is a level of apprehension sometimes in the African-American community when there are efforts to break through glass ceilings," Obama says.