A Year of Snow Biking in Alaska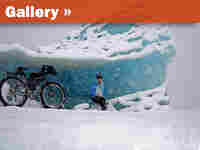 Jill Homer of Juneau, Alaska, is training to bike 350 miles in the February's Iditarod Trail Invitational — a human-powered version of the famous sled-dog race.
Taking time off to let a nagging knee injury heal, the snow cyclist tallied her miles for the year. She logged 6,572 miles in the saddle, and she sends the pictures to prove it.