'Down Time': Snow Cyclist Seeks Shelter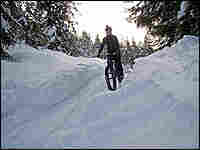 When the weather outside is frightful, snow cyclist Jill Homer grabs a tent and a sleeping bag and heads for the woods. Homer is training to bike 350 miles in February's human-powered Iditarod. These days, she's working on the mechanics of spending a week or more sleeping in the enormous freezer of the Alaskan interior. Homer blogs regularly at Up in Alaska.
I crouched over the snow to rearrange my stack of twigs, rain-glazed and frozen to a hard sheen. Behind me, the ice spires of Herbert Glacier glowed an eerie electric purple in the moonlight. A stiff breeze tore across the glacial moraine and stabbed at my campsite on the edge of the snow-covered mudflats. The temperature before wind chill registered 10 degrees.
I was still wearing my sweaty biking clothing, and hoped a warm flame would spare me the need to strip down to change my base layer. I held my lighter under my last piece of precious crinkled newspaper and pressed down.
Nothing. I flicked the lighter again and again. Not even a spark. I wedged it under my armpit to heat up the fluid and made another mental note ... lighters don't work at 10 degrees.
This is the other side of preparing for the Iditarod Trail Invitational — and probably the most important side: Learning what needs to be done during the down time. Covering 350 miles of Alaska wilderness on a bicycle doesn't happen in a day. Cyclists need to stop to eat, to sleep, to maintain the bike and prepare for changing conditions. In fact, there's a lot of stopping in this race. But unlike a summer endurance race, where a cyclist might spend his down time lounging under a sun canopy sipping a Red Bull, winter race down time isn't truly a break. There are clothes to change, fires to build, snow to melt, food to thaw and campsites to arrange, all while locked in an endless battle with the creeping cold. Staying warm while inactive can be more work than staying active. Many times, the Iditarod Trail Invitational has been won and lost on the strategic mastery of down time.
I have been trying to spend more time practicing my camping technique. This often means actually going out and camping in the cold after a long ride.
It's a hard activity to motivate for, knowing that I have a warm bed and unlimited hot cups of coffee available if I just pedal all the way home. But I need to gain more confidence in my ability to break camp quickly, melt my drinking water efficiently, and sleep comfortably in the cold weather. So I pack all of my gear on my bicycle — a combination of camping gear, clothing, food and water that tops 60 pounds including the bike — and pedal to a remote location where I can lay my sleeping bag in the snow and practice the strategy of down time.
The camping gear I use is basic but essential: a -40 degree down sleeping bag, winter bivy sack, sleeping pad, stove, liquid fuel, change of base layer, mittens, extra socks, extra hat and down coat. I keep my water in an insulated bladder beneath my coat to try to stave off freezing. For food, I tend to stick to simple, calorie-dense foods that either thaw easily or don't freeze solid: Chocolate bars, Power Bars, Pop Tarts, sunflower seeds, dried fruit, nuts, crackers and peanut butter sandwiches. My body is my furnace, literally, and anything that I want to keep warm I keep close to my core.
And as always, every time out is another learning experience, full of trials and misfires. My Herbert Glacier fire was a complete bust. Even after Geoff showed up and employed his own expert firemaking skills — and new newspaper — he couldn't ignite the smallest twig. Finally, we took the low road, dumping most of our cooking fuel on spruce bows and igniting them in a spectacular fireball. When that didn't work, we gathered up the gear for plan B and went to bed.
And as I crawled into my down cocoon with green streaks of the Northern Lights pulsing over a wash of stars, I took comfort in the knowledge that I still have tomorrow to try again.